Florida sues US Department of Education
Governor Ron DeSantis has vowed to challenge the "unchecked power" of college accreditation agencies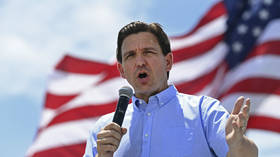 Florida has filed a lawsuit against the US government, seeking to vacate legislation which forces universities to receive approval from private firms in order to receive federal funding. The White House says it will fight the case in court.
Governor Ron DeSantis announced the move on Thursday, calling for sweeping changes to the accreditation process, while warning that the federal government is looking to "crack down" on Florida over its opposition to "woke" ideology in the education system.
"They believe that Florida should potentially lose student aid as a result of making these types of reforms," he said. "I've read the state and federal constitutions a lot and I don't recall seeing that clause in either of those constitutions and so we reject the idea that a totally unaccountable, unappointed, unelected accrediting agency can trump what the state of Florida is doing."
The Republican governor and 2024 presidential candidate went on to explain that the Department of Education selects private bodies to approve colleges and universities for federal assistance, and that those accreditors can "serve as a veto against the entire state of Florida." He said the state government has asked the courts to "find this arrangement to be unconstitutional."
The state's 42-page legal complaint argues that Congress should not "delegate its legislative authority to trade or industrial associations," citing decisions by the US Supreme Court. It added that lawmakers have nonetheless "ceded unchecked power to private accrediting agencies to dictate education standards," urging the courts to acknowledge a "pattern of abuse" by such businesses.
The White House has dismissed the legal action as frivolous, suggesting it has more to do with conservative ideology than genuine concerns about the education system. It pledged to challenge Florida's case.
"These culture wars do nothing to actually help students, and only make things worse. This administration won't allow it," White House spokesperson Abdullah Hasan told the Associated Press. "We're committed to ensuring all students receive a high-quality education, and will fight this latest effort by opponents to get in the way of that."
You can share this story on social media: