US state removes Bible from schools
A parent has already appealed the decision to remove the Christian holy book from library shelves in Utah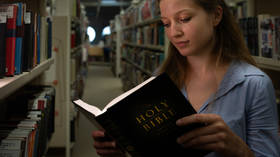 Utah's Davis School District is considering whether to return the Bible to library shelves after a parent appealed the school's decision to remove it due to its sexual and violent content, district spokesperson Christopher Williams told the Salt Lake Tribune in an email earlier this week.
A committee appointed by the district to review parents' complaints determined in March that high schools should be permitted to keep the religious text but that it should be removed from elementary and middle schools due to "vulgarity or violence."
As many as eight elementary and middle-school districts with copies of the book will have theirs removed as the school year draws to a close, Williams explained.
A parent first challenged the Bible's presence in school libraries in December, explaining they were frustrated with the number of books being removed from libraries based on a recent state law that classified works as having "no serious value for minors" if their content includes any "description or depiction of illicit sex or sexual immorality."
Sarcastically "thanking" the state for "making the bad faith process [of banning books] so much easier and way more efficient," they noted that Davis School District had "left off one of the most sex-ridden books around." The parent included an eight-page listing of Bible passages they argued were offensive in their complaint, highlighting instances of "incest, onanism, bestiality, prostitution, genital mutilation, fellatio, dildos, rape, and even infanticide."
"If the books that have been banned so far are any indication for way lesser offenses, this should be a slam dunk," the parent snarked, urging the district to "get this PORN out of our schools!"
While Williams claimed a district committee determined the Bible "does not contain sensitive material," according to the new law, he explained a decision had been made to restrict its availability to high schoolers anyway. A parent has appealed that decision, demanding the book be made available to all ages.
Davis School District's Board of Education has appointed a three-person committee to review both the original complaint and the appeal. Other religious books, including the Torah, Quran, and Book of Mormon, remain available for all ages.
Parents in school districts across the US have taken steps to remove certain books from their libraries following a nationwide outcry over seemingly pornographic books and graphic novels explicitly discussing LGBTQ lifestyles and the promotion of Critical Race Theory and other racially sensitive material.
You can share this story on social media: