Twitter must follow Indian laws – Musk
The social media giant has 'no choice' but to obey local governments or risk being shut down, the tech mogul has said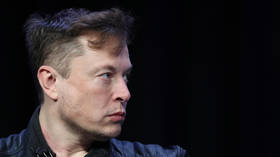 Twitter owner Elon Musk has responded to allegations that the Indian government threatened the social media site with a shutdown unless it censored certain posts. The billionaire explained his company must obey local laws or risk losing its business.
Following a meeting with Prime Minister Narendra Modi in New York City on Tuesday, where the two discussed opening a Tesla factory in India, Musk was asked to comment on allegations made by former Twitter CEO Jack Dorsey about the Indian government's alleged pressure on the social media site.
The businessman responded by stating that "Twitter doesn't have a choice but to obey local governments." "If we don't obey local government laws then we will get shut down," Musk told reporters.
"The best we can do is to follow the laws in any given country," he said, adding that it is impossible for "us to do more than that."
Musk noted that governments have different rules and regulations, but insisted that Twitter "will do the best to provide the freest speech that is possible under the law."
His comments come after Dorsey claimed last week that Twitter had come under pressure from New Delhi to censor posts related to the 2021 Indian farmers' protests and to ban journalists who were critical of the Indian government.
"'We would raid the homes of your employees,' which they did; We will shut down your offices if you don't follow suit. And this is India, a democratic country," Dorsey claimed.
The Indian government has in turn vehemently denied Dorsey's allegations and has accused Twitter of violating local laws. In a Twitter post last week, India's Deputy Minister for Information Technology Rajeev Chandresekhar called the former CEO's claims an "outright lie."
"No one went to jail nor was Twitter 'shut down.' Dorsey's Twitter regime had a problem accepting the sovereignty of Indian law. It behaved as if the laws of India did not apply to it," he wrote.
Meanwhile, a recent batch of leaked emails has suggested that the FBI, in conjunction with Ukrainian spies, did in fact order Twitter to remove more than 160 accounts from the platform that Kiev's authorities deemed to be "spreading fear and disinformation." According to reporter Aaron Mate, the targeted accounts included those linked to RT and several Russian media outlets as well as American and Canadian journalists.
You can share this story on social media: