FBI and Ukrainian spies conspired to censor Twitter users – report
The operation targeted RT, as well as American critics of Kiev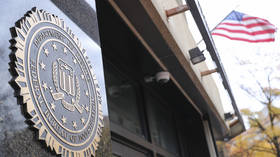 The FBI asked Twitter to remove more than 160 accounts that Ukrainian intelligence agents claimed were "spreading fear and disinformation," according to leaked emails seen by reporter Aaron Mate. The FBI also asked Twitter to forward the personal information of these accounts to Kiev.
FBI Special Agent Aleksandr Kobzanets, who is based in the US embassy in Kiev, reached out to Twitter executives last March, passing them "a list of accounts I received over a couple of weeks from the Security Service of Ukraine (SBU)" according to an email published by Mate on Wednesday.
The attached document, compiled by the SBU, included 163 Twitter accounts. Among these were accounts belonging to RT and other Russian media outlets, and to American and Canadian journalists, Mate included.
These accounts, the SBU stated, had been "used to disseminate disinformation and fake news to inaccurately reflect events in Ukraine."
Article here: https://t.co/onb5mLXrjBIn March 2022, an FBI Special Agent sent Twitter a list of accounts on behalf of the SBU, Ukraine's main intelligence agency. The accounts, the FBI wrote, "are suspected by the SBU in spreading fear and disinformation." pic.twitter.com/mxwGrVNLuz

— Aaron Maté (@aaronjmate) June 7, 2023
"In order to stop Russian aggression on the information front," the SBU wrote, "we kindly ask you to take urgent measures to block these Twitter accounts and provide us with user data specified during registration."
The request was not honored as the SBU wanted. Twitter's then-head of trust and safety, Yoel Roth, replied to Kobzanets that he would investigate the accounts for "inauthenticity," and would only suspend those hiding ties to foreign governments. Journalists "who cover the conflict with a pro-Russian stance are unlikely to be found in violation of our rules," he wrote.
Mate asked Kobzanets whether he had vetted the SBU's list before sending it to Twitter, and whether he revised his work with the SBU afterwards. The agent did not reply. Likewise, the FBI refused to comment when asked about whether its "'assistance to Ukraine' entailed censoring journalists."
Of the 163 accounts named by the SBU, 34 were suspended and 20 have since been deleted.
Prior to Elon Musk's purchase of Twitter last October, Roth and other executives regularly communicated with US intelligence agencies and government departments, and often agreed to their censorship requests. Internal communications given by Musk to independent journalists in recent months revealed that Twitter suppressed information damaging to Joe Biden's election campaign, colluded with the FBI to remove content the agency wanted hidden, assisted the US military's online influence campaigns, and censored "anti-Ukraine narratives" on behalf of multiple US intelligence agencies.
You can share this story on social media: