Ukraine working with FBI to censor social media – official
Kiev's top cyber spy has revealed collusion with the US and how his government defines 'disinformation'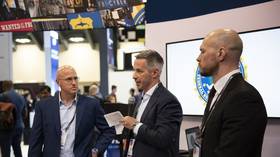 Ukrainian intelligence has partnered with the FBI and other US government agencies to remove 'Russian' content on Silicon Valley platforms, a senior official told independent journalist Lee Fang earlier this week at the RSA Convention in San Francisco.
"Once we have a trace or evidence of disinformation campaigns via Facebook or other resources that are from the US, we pass this information to the FBI, along with writing directly to Facebook," Ilya Vitiuk, head of the Department of Cyber Information Security in the Security Service of Ukraine (SBU), told Fang.
Vitiuk spoke at the cyber security conference, sitting on a panel alongside FBI Cyber Division Assistant Director Bryan Vorndran, Special Agent Alex Kobzanets from the San Francisco field office, and Laura Galante from the Office of the Director of National Intelligence.
Fang noted that the Ukrainian official thanked the many "private sector allies" in the US, including Google, Amazon, Starlink, and CrowdStrike – the DNC contractor that claimed 'Russian hacking' in 2016 but later testified it had no evidence for it.
"I don't know how many times we've called the CEOs here in San Francisco to drive to their office on a Sunday afternoon and really engage with our Ukrainian partners," Kobzanets said during the panel.
According to Vitiuk, the SBU tells the FBI that a certain person or account is "probably Russia's influence" in order to get them censored. He described the FBI as his agency's "top partner" and US cyber support as a "psychological game changer" for Ukraine.
"Everything that is against our country, consider it a fake, even if it's not," Vitiuk told Fang when asked how the SBU determines what might be disinformation. "Right now, for our victory, it is important to have that kind of understanding, not to be fooled."
By way of example, Vitiuk cited reports of tensions between President Vladimir Zelensky and Ukraine's top general, Valery Zaluzhny, saying they were completely fabricated by Russia. In early March, the openly pro-Ukraine German tabloid Bild reported on their disagreements about military tactics.
Fang has previously documented US government plans to work with social media platforms on censoring "disinformation" related to "the nature of US support to Ukraine." In December, he also revealed that the Pentagon had teamed up with Twitter to "amplify certain messages" for the US military.
You can share this story on social media: