Biden calls China's Xi a 'dictator'
The jibe comes just one day after America's top diplomat concluded a rare visit to the People's Republic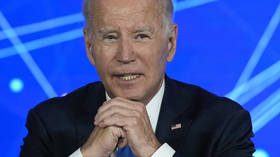 US President Joe Biden has labeled his Chinese counterpart, Xi Jinping, a "dictator," claiming Beijing was humiliated after one of its weather balloons accidentally strayed into American airspace earlier this year.
Biden discussed the row over the balloon at a fundraiser in California on Tuesday, suggesting the incursion was unintentional, even while stating that the craft was designed for espionage. He said the mishap blindsided Chinese officials, including Xi.
"The reason why Xi Jinping got very upset, in terms of when I shot that balloon down with two box cars full of spy equipment in it, was he didn't know it was there," Biden said. "That's a great embarrassment for dictators. When they didn't know what happened. That wasn't supposed to be going where it was. It was blown off course."
The Chinese balloon floated into US airspace in February and, after several days, was shot down by a fighter jet. While Washington has repeatedly described the device as a "spy balloon," Beijing maintains it was a civilian airship used to gather meteorological data, and that it floated off course by mistake.
The balloon triggered anxiety for US officials, with the military firing on several other objects spotted in American skies soon after the first incident. Biden later revealed that those craft were "most likely" weather balloons, while the Pentagon noted that a radar adjustment had led it to misidentify the objects.
Biden's remarks to donors came just one day after Secretary of State Antony Blinken concluded a visit to Beijing, where he held talks with Xi and other senior Chinese officials. The trip was initially scheduled for February, but was postponed following the spat over the balloon.
Blinken is the first US secretary of state to meet with Xi since 2018, highlighting rising tensions between the two countries. During their sit-down, the Chinese president stressed the need to improve ties, but insisted the US-China relationship must be based on mutual respect and peaceful coexistence. He said Beijing "does not seek to challenge or displace the US," and that China expects the same from Washington.
The Biden administration has described China as the US' top competitor, and has vowed to confront Beijing on a range of issues, including its claims over Taiwan. While Blinken pressed Xi on alleged "human rights violations" in China and the government's "unfair" economic policies during their meeting, he also called for more cooperation and encouraged further dialogue.
You can share this story on social media: