Western spies fear Kiev's counteroffensive will backfire – Moscow
Foreign backers are concerned that operation's failure could threaten Ukraine's very statehood, Russian intelligence chief says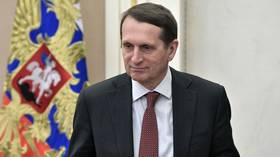 Western intelligence agencies fear that Ukraine's counteroffensive could lead to completely opposite results from those expected by Kiev, the head of Russian Foreign Intelligence Service (SVR), Sergey Naryshkin, told Rossiyskaya Gazeta newspaper on Monday.
The Russian spy chief claimed that "authoritative members of the US and European intelligence services and military departments don't rule out that the counteroffensive could lead to directly opposite results" of those expected by Ukraine.
Despite supporting the counteroffensive in their public statements, "behind the scenes, many Western military analysts express serious doubts about the success of the Ukrainian adventure," Naryshkin said during an interview with the outlet.
"Without going into details, I'll say that the tasks announced by the Kiev regime are assessed as unachievable" by foreign experts, he added.
Ukrainian President Vladimir Zelensky and other officials had earlier stated that the operation should end with Kiev recapturing all territories it lost to Moscow, including Crimea.
The concern in Washington and Brussels is that the "death of a significant number of NATO-trained military personnel and destruction of equipment will undermine the combat capability of the Ukrainian army. This, in turn, will negatively affect the stability of the Zelensky regime," Naryshkin explained. He added that according to a number of Western assessments, Ukrainian statehood itself may be under threat because of the counteroffensive.

The head of Ukraine's National Security and Defense Council, Aleksey Danilov, claimed during a television appearance on Monday that the counteroffensive has been progressing in line with Kiev's schedule.
"Everything is going according to a plan, which had been approved and developed. There are no deviations from it," Danilov said, adding that only "a limited circle of people know" what this plan actually is.
Ukraine launched its long-anticipated offensive in early June, but has so far failed to achieve any significant advances, according to Moscow. Last week, Russia's Defense Ministry estimated Kiev's losses since the start of the operation at 7,500. Russian President Vladimir Putin also said that 30% of Ukraine's Western-supplied military hardware, including a number of German Leopard 2 tanks and US-made Bradley fighting vehicles, had already been destroyed.
Kiev has claimed the capture of several small villages as a result of its attacks. However, they appear to be located kilometers away from Russia's main defensive lines.
You can share this story on social media: