Musk weighs in on Ukrainian counteroffensive
The Tesla and Twitter owner appeared to agree with an article alleging that Kiev's attempts to reclaim lost territory are failing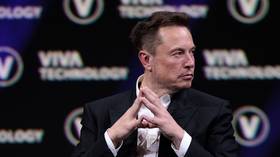 Tesla and Twitter CEO Elon Musk has endorsed an article by investor and entrepreneur David Sacks arguing that Ukraine's military push against Russia is faltering.
On Tuesday, Sacks posted an article on Twitter, claiming "it's becoming clear that the Ukrainian counteroffensive is failing to achieve any of its originally stated objectives." Washington's bet that Kiev would be able to "roll back Russian territorial gains, cut the land bridge to Crimea" and make it engage in negotiations had not paid off, he added.
"On the contrary, a stalemate is more likely, or even that Russia will take more territory and win the war," the investor stated.
He went on to compare the situation in Ukraine with the US military campaign in Afghanistan, which ended with a chaotic withdrawal of US troops in 2020. "It's worth recalling that the American public was assured for two decades that we were winning in Afghanistan," Sacks wrote, adding that any belief that the local military was "standing up" to the Taliban crumbled within just a few weeks.
"Unfortunately, it looks like we're headed for a similar kind of outcome in Ukraine. The only question is when, and how long Biden will be able to perpetuate a proxy war of choice that could have easily been avoided," he claimed.
Musk appeared to agree with Sacks' take on Ukraine, writing on Twitter: "Well said."
Meanwhile, Sacks pointed to new evidence showing that Moscow and Kiev could have come to an agreement at the very start of the conflict last year, referring to a draft treaty on neutrality and security guarantees for Ukraine shown by Russian President Vladimir Putin earlier this week.
However, the negotiations on the matter broke down in the spring 2022 after Ukraine accused Russia of committing war crimes, a claim Moscow has vehemently denied. The alleged atrocities were discovered after Russian troops withdrew from areas around Kiev in a "goodwill gesture," according to Moscow.
Kiev's troops launched their long-anticipated offensive in early June, but their attacks have failed to gain any ground, according to the Russian Defense Ministry, which last week estimated Ukrainian frontline losses since the start of the push at 7,500. Meanwhile, Putin has claimed that Ukraine has lost up to 30% of its Western-supplied military equipment.
You can share this story on social media: