Transitioning is religious right – The Satanic Temple
The advocacy organization says its ministers are ready to testify in court as expert witnesses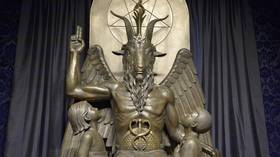 The Satanic Temple (TST), a US-based advocacy group operating as a religious organization, has offered to have its "priests" testify on behalf of trans TST members that gender affirmation procedures are part of the core tenets of Satanism.
The offer, announced on social media on Wednesday and known as the Expert Witness Service, is "specifically tailored to TST's trans members who face infringement of their bodily autonomy by government authorities at a local, state or federal level," according to the message.
Trans rights have become a hot-button political issue in the US, with conservative politicians pushing for strict limitations in some areas. In April, the Republican-controlled House of Representatives passed a bill that seeks to ban transgender women and girls from competing in female school sports. Liberal opponents call such policies transphobic.
The temple claims to have over 700,000 members worldwide and lists full personal control of one's body as one of its seven tenets. The organization promotes individual liberty, secularism, and reason.
One of TST's recent campaigns targeted a monument featuring the Ten Commandments that was installed on the grounds of the Oklahoma State Capitol in 2012. The group sought to place alongside it a statue of the demon Baphomet, one of the symbols it uses in its rituals.
It withdrew its request after Oklahoma's Supreme Court ruled in 2015 that the original monument violated the state's constitution, which prohibits state support of any religion. TST has been involved in similar protests and legal action against a Ten Commandments monument in Arkansas.
You can share this story on social media: