US silence on Nord Stream 'surprising' – Beijing
Washington's reaction to the bombing of the Baltic Sea gas pipelines is baffling, China says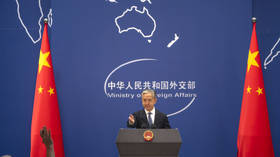 Washington should reveal what it knows about last year's attack on the Nord Stream natural gas pipelines, China has said, responding to recent claims that US intelligence agencies were aware of the plot months in advance.
At a Tuesday press briefing, Chinese Foreign Ministry spokesman Wang Wenbin was asked to comment on reports published in German and Dutch media suggesting that a Ukrainian plan to destroy the pipelines was known to the CIA in June of 2022, well before a similar scheme allegedly went forward in September.
"Eight months have passed since the explosion, yet the investigation process has been going slow. It is surprising that the US has remained silent this time," Wang said, adding that the US "owes the international community an explanation."
The spokesman called for an "objective, impartial and professional investigation into the explosions" in order to "hold those responsible to account." He voiced suspicion over Washington's refusal to "respond to international doubts and concerns."
German and Dutch outlets have reported that the Netherlands' intelligence service initially uncovered the plan to destroy the Nord Stream pipelines last summer and later relayed the information to its American counterpart. While the original plot was reportedly called off, they claimed a nearly identical attack was carried out soon after.
The Washington Post published a similar report last week, citing European intelligence documents that were part of a trove of classified material allegedly shared online by a US National Guard airman earlier this year. The newspaper stated the US government had "learned from a close ally that the Ukrainian military had planned a covert attack" on the pipelines, which were built to deliver Russian gas to Germany.
US officials have so far declined to respond to the claims but have insisted that Washington had no part in the sabotage. Ukraine, too, has repeatedly denied any involvement in the bombings.
Pulitzer Prize-winning investigative journalist Seymour Hersh reported in February that US President Joe Biden had ordered the CIA to disable the Nord Stream pipelines using NATO military drills as cover.
Russian President Vladimir Putin said in March that he "fully agrees" with Hersh's conclusions, arguing that the US in particular benefited from the attack due to its position as a competing gas supplier to Europe.
You can share this story on social media: