JPMorgan settles Epstein lawsuit
The bank was accused of facilitating the notorious pedophile's sex-trafficking operation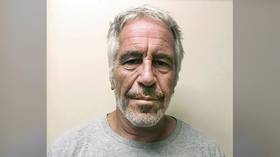 JPMorgan Chase announced on Monday that it had reached a settlement with one of Jeffrey Epstein's victims, who had accused the bank of profiting from his sex-trafficking operation and allowing him to make payments to his victims.
"The parties believe this settlement is in the best interests of all parties, especially the survivors who were the victims of Epstein's terrible abuse," the US bank said in a statement. According to lawyers for the plaintiff, the bank agreed to pay $290 million to settle the suit.
The lawsuit was brought by an anonymous woman who claims she was sexually abused by Epstein between 2006 and 2013. Epstein was a client of JPMorgan between 1998 and 2013, and the plaintiff claimed that the bank had turned a blind eye to payoffs he had made to alleged abuse victims, and had allowed him to continue using its services despite multiple warnings from employees following his child sex abuse conviction in 2008.
The settlement was reached less than a week after the woman's lawyers called for further testimony from JPMorgan CEO Jamie Dimon. Several days earlier, Dimon testified that he had barely known Epstein before his 2019 arrest. However, former JPMorgan executive Jes Staley told the New York court that he and Dimon had held several conversations about Epstein and his criminal record in 2012.
JPMorgan eventually closed Epstein's accounts in 2013, after which the convicted pedophile took his business to Deutsche Bank. Last month, Deutsche settled a lawsuit with Epstein's accusers for $75 million, and said that it had strengthened its compliance and security policies in response.
The US Virgin Islands also brought a similar lawsuit against JPMorgan last year, alleging that the bank had enabled his crimes. According to the suit, the bank's top executives had often joked about Epstein and his fondness for young girls, despite compliance staffers repeatedly attempting to have his account classed as "high risk" and urging management to cut ties with the sex offender.
The Virgin Islands, where Epstein's private island of Little Saint James is located, argued that the government could have been tipped off to Epstein's crimes earlier if JPMorgan had properly reported suspicious transactions on his account. These transactions included a payment of $600,000 to transport a 14-year-old girl to the US from Europe, whom executives described as his "assistant or young lady he brought over from Prague (or some place like that)."
Epstein was arrested in 2019 and charged with the trafficking of dozens of underage girls, but was found dead in his Manhattan jail cell before he could be brought to trial. His death was ruled a suicide, although this official explanation was met with skepticism by some due to his close ties to wealthy and powerful figures, including former US President Bill Clinton, current CIA Director William Burns, and Britain's Prince Andrew.
You can share this story on social media: