JPMorgan execs joked about Epstein's pedophilia – lawsuit
A newly released version of the Virgin Islands' lawsuit reveals compliance officials urged the bank to ditch the predator as a client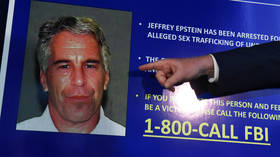 JPMorgan's own compliance officers were urging the international banking giant to cut ties with convicted sex offender Jeffrey Epstein for years before it finally dropped him in 2013, according to a revised criminal complaint from the US Virgin Islands, made public on Wednesday. The updated suit adds a charge of obstructing federal law enforcement's prosecution of Epstein.
Epstein and his fondness for young girls were a source of laughs among senior executives at the bank, the filing confirms. Wealth and asset management division head Mary Erdoes testified that she received an email in 2008 asking her if he was at an event "with miley cyrus" [sic] - then the 16-year-old star of Disney's 'Hannah Montana'.
The suit reveals the bank's Rapid Response Team sought to have Epstein's account classified as "high risk" as early as 2006, noting he "routinely" made cash withdrawals of $40,000 to $80,000 several times a month. In 2010, the risk management division flagged his account and asked if higher-ups were "still comfortable with this client who is now a registered sex offender."
A senior compliance official called Epstein a "sugar daddy" in a 2011 account review after he sponsored private accounts for two 18-year-olds. Internal compliance officials reportedly insisted Epstein "should go," while anti-money laundering officials told the bank to "exit this relationship." When Epstein's since-convicted madam, Ghislaine Maxwell, tried to open an account in 2011 for a "personal recruitment consulting business," she was flagged as a "High Risk Client" on suspicion the activity was related to "Jeffrey."
Erdoes met with former private banking head Jes Staley and two other executives between 2008 and 2013 about the risks he posed, according to the complaint, and finally dropped him as a client in 2013 after she learned his withdrawals were "actual cash."
The Virgin Islands, where Epstein's private island Little Saint James is located, sued JPMorgan in December, claiming it benefited financially from his crimes and that it failed to report suspicious financial activity via routine regulatory filings that might otherwise have tipped off the government to the abuse going on in its territory.
JPMorgan has in turn sued Staley, accusing him of covering up for Epstein. The bank has demanded he forfeit eight years of compensation and pay for its losses in both the Virgin Islands lawsuit and another suit filed by a group of Epstein's alleged victims. Court filings show Staley exchanged over 1,200 emails with Epstein, many referencing young women.
The jet-setting predator, who died in a Manhattan jail cell in 2021 while awaiting trial on sex-trafficking charges, spent 15 years as a client in supposedly good standing at JPMorgan, despite his conviction in 2008 on charges of soliciting an underage prostitute.
You can share this story on social media: