New weapons pledge to Ukraine faces huge delays – Bloomberg
Washington on Friday committed to supplying Kiev with more military aid, including artillery munitions and laser-guided rockets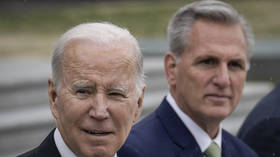 Fresh Pentagon plans to supply Ukraine with military aid could face extensive delays, Bloomberg reported on Friday, as the promised weapons packages will first have to be contracted and then produced before being sent to Kiev.
Defense Department officials and senior Biden administration figures confirmed on Friday that an additional $2.1-billion long-term arms package had been rubber-stamped by Washington. This will include the supply of air-defense systems, artillery munitions, hand-launched drones and laser-guided rockets.
"This announcement represents the beginning of a contracting process to provide additional priority capabilities to Ukraine," the department said in a Friday statement, adding that the supplies come under the banner of the Ukraine Security Assistance Initiative (USAI).
It remains unclear exactly how long the contracting process might take but Bloomberg speculates that it could take "months or possibly years."
Some previous arms packages sent by Washington to Kiev came under the terms of the Presidential Drawdown Authority. This permits the use of Defense Department stocks to be transported overseas to increase the expediency of their deployment in battlefield scenarios.
In advance of the package announced on Friday, the Pentagon had already actioned $14.6 billion of the $19 billion total approved by the US Congress for the USAI. $5.6 billion of that remains under contract, Bloomberg reported.
Republican leader Kevin McCarthy has postured that, as the $19-billion limit draws nearer, he may not support additional funding for Ukraine. President Joe Biden, though, remains confident that any funding rows in Washington will be temporary. Speaking alongside British Prime Minister Rishi Sunak this week, Biden said that the United States will "have the funding necessary to support Ukraine as long as it takes."
The United States has been by far the world's biggest supplier of arms to Ukraine since January 2022, followed by Germany and EU bodies.
Moscow has repeatedly voiced its opposition to US-led arms packages being sent to Kiev, saying that Western weapons deliveries are only serving to inflame and to unnecessarily prolong the conflict.
"What the Americans are doing is pouring oil on the flames," Russia's ambassador to the United States Anatoly Antonov told Rossiya 24 TV channel last year. "I only see an attempt to raise the stakes, to aggravate the situation, to see more losses," he added.
Kremlin spokesperson Dmitry Peskov has also said that beefed-up weapons supplies to Ukraine have forced "an aggravation of the conflict."
You can share this story on social media: