Ukraine-bound ammo train robbed in Poland
Authorities claim that all four crates and contents have been recovered and accounted for, according to local media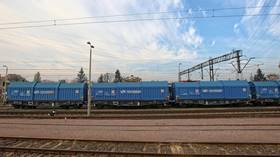 Western-provided ammunition destined for Ukraine fell prey to train thieves in Poland on Sunday. Local media reported that the now detained criminals had not targeted the military cargo intentionally, but rather chose the crates by chance.
Police spokesperson Mariusz Ciarka told reporters that the train operated by US troops was traveling from Germany. According to the authorities, the thieves broke into the carriage under the cover of night in the town of Wegliniec. Lower Silesian Police representative, Przemyslaw Ratajczyk explained that "when they realized what they had stolen, they got scared and, fearing serious consequences, decided to abandon the loot."
Police began searching for the missing crates and found all four in a pond four kilometers away from the original crime scene. In a Twitter post on Wednesday, officials revealed that the seals on three crates seemed intact, while the other one had been opened, but no ammunition was taken.
The police reported that it had detained three locals on suspicion of theft who are known to the authorities for their "previous property offenses." However, officials may be looking for a fourth suspect, according to some reports.
Local news pointed out that train theft in the area is "nothing new."
Poland's RMF FM radio station alleged that the thieves had laid their hands on some 120 rounds of 25 mm caliber shells. Other outlets claimed that the crates contained grenades and unspecified ammunition, or grenade launchers and shells.
Since Russia launched its military campaign in Ukraine last February, Poland has been actively supporting its neighbor with weapons. Additionally, the country has turned into a logistical hub for arms deliveries from other Western nations.
You can share this story on social media: