EU fears 'pro-Russian' votes in key states – Politico
A change of leadership in Austria and Slovakia could spell doom for Brussels' sanctions regime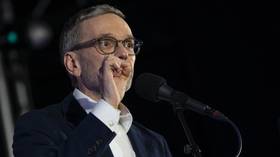 "It would be a disaster" if Ukraine-skeptic leaders were elected in Austria and Slovakia, a European Commission official told Politico on Tuesday. The EU reportedly fears that political swings in both countries could jeopardize future sanctions against Russia, as well as the bloc's military aid to Kiev.
Austria's center-right government is unpopular, and concerns about immigration and the rising cost of living have made Herbert Kickl's right-wing Freedom Party the most popular political faction since late last year. Legislative elections are scheduled for next autumn at the latest.
Similar concerns in Slovakia have seen former Prime Minister Robert Fico surge in popularity. With just three months to go until parliamentary elections, Fico's Direction – Slovak Social Democracy party is leading in the polls, as the country labors under an unelected government of technocrats.
"It would be a disaster" if both men were to take office, an anonymous "senior [European] Commission official" told Politico, referring to Kickl and Fico's stance toward Russia.
Politico evidently agrees with the European Commission, and has published multiple articles in recent days describing the Austrian politician as "a pro-Russian, anti-American conspiracy theorist," and his Slovakian counterpart as a spreader of "Russian disinformation."
Both potential prime ministers are vehement opponents of immigration, particularly from Islamic countries. When it comes to Ukraine, Kickl has declared NATO as responsible for the conflict as Russia and considers Austria's backing of EU sanctions on Moscow to be a violation of the country's neutrality. In March of this year, Kickl and his Freedom Party colleagues walked out of parliament during an address by Ukrainian President Vladimir Zelensky.
Slovakia is a member of NATO and has given Ukraine armored personnel carriers, howitzers, and its entire fleet of Soviet-era MiG-29 fighter jets since last February. Fico, who served two stints as prime minister in the last two decades, has said he would cut off this military aid.
Until now, Hungary has been the only EU member to consistently oppose sanctions on Russia, with Viktor Orban's government usually agreeing to the bloc's restrictions only after carving out concessions for Hungary. Budapest is currently holding up the EU's eleventh sanctions package over Ukraine's blacklisting of several of its companies as "war sponsors," while simultaneously blocking a $542 million tranche of EU military aid to Kiev.
Were Kickl and Fico to take office, Austria, Hungary, and Slovakia would form a powerful political bloc, and could exert significant pressure on Brussels to change its Ukraine policy.
You can share this story on social media: