EU nation decries 'sanctions hysteria'
Restrictions on Russia have done damage to the bloc's economy, but have failed to stop fighting in Ukraine, says Hungary's FM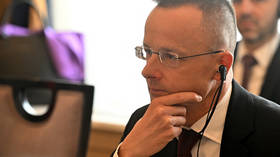 Europe finds itself in the throes of the most severe crisis since WWII, partly due to its leaders' reliance on economic sanctions to punish Russia over Ukraine, Hungarian Foreign Minister Peter Szijjarto said on Tuesday. He said that those measures have instead backfired on the continent.
Speaking at the Budapest Peace Forum, the minister said that the Ukraine conflict has brought upon Europe the most serious security and economic challenge in the last 80 years, coupled with enormous risks for further escalation.
Without naming any names, Szijjarto said that "there are some European leaders who suffer from an ever-increasing war psychosis" and added that Europeans were paying the price for the conflict.
The war is taking place here, European people are dying, and the effects of the war are most severe in Europe.
Szijjarto said that the EU had plunged into "sanctions hysteria" and allowed the US to goad it into a race revolving around which European country would deliver more weapons to Ukraine.
He stated that the EU's sanctions against Moscow had neither ended the fighting in Ukraine, nor brought Russia to its knees.
"One year, three months, two weeks after the outbreak of the war, while debating the eleventh package of sanctions, I think it is clear to everyone that the two objectives associated with the imposition of sanctions have failed, both of them," he said.
At the same time, "the European economy has suffered more damage," the minister stressed, pointing out that the bloc's competitiveness had "plummeted" while European consumers have to pay much more for energy than Americans or Chinese.
"That is why we demand an immediate ceasefire, we demand that peace negotiations begin, which at least offers a hope that a sustainable, long-term security-giving peace will be established in our region," he said.
Since the start of the Ukraine conflict, Hungary has repeatedly called for peace talks between Moscow and Kiev, offering to act as a mediator. While decrying sanctions on Russia as counterproductive, Budapest has likewise refused to send weapons to Ukraine and banned their transit via Hungarian territory.
You can share this story on social media: