Prince Harry testifies in phone hacking case
The British royal has claimed illegal media tactics damaged his relationships with Prince William and then-girlfriend Chelsy Davy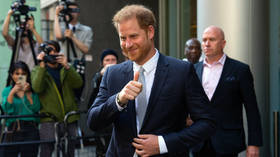 Prince Harry has become the first British royal in more than 130 years to take the witness stand in court, testifying in a case in which he claims UK publisher Mirror Group Newspapers (MGN) invaded his privacy to report dozens of damaging stories based on illegally obtained information.
The Duke of Sussex testified in London's High Court on Tuesday and Wednesday, alleging that MGN's Daily Mirror newspaper and other publications used voicemail interception and other unlawful information-gathering tactics to uncover private information between 1991 and 2011. However, he provided no concrete evidence of hacking, and while MGN has previously admitted to using such tactics in some stories, the publisher denied doing so in Harry's case.
Harry pointed to a 2007 article about his strained relationship with then-girlfriend Chelsy Davy to suggest that his voicemails must have been hacked. "Everything that is attributed to a palace source I believe is obtained unlawfully because I never spoke to anyone about my relationship with my girlfriend." The media's aggressive tactics also led to Davy's decision to end the relationship, he claimed, "which was incredibly upsetting for me at the time."
The younger son of King Charles III also alleged that MGN's hacking damaged his relationship with his brother, Prince William. One of the 33 articles in question concerned a 2003 dispute between the brothers over whether to meet with their late mother's former butler, Paul Burrell, who had allegedly been selling secrets about Princess Diana to the press. "This sort of article seeds distrust between brothers," Harry testified.
MGN staffers apparently used illegal tactics – including voicemail interception or live tapping of landlines -- to intercept the private communications of Princess Diana before her death in 1997, Harry said. He accused TV host Piers Morgan, then editor of the Daily Mirror, of being involved in the tactics.
"The thought of Piers Morgan and his band of journalists earwigging into my mother's private and sensitive messages – in the same way as they have me – and then having given her a nightmare time three months prior to her death in Paris, makes me feel physically sick," Harry said. He added that those feelings make him "even more determined to hold those responsible, including Mr. Morgan, accountable for their vile and entirely unjustified behavior."
Morgan declined to comment on the case while it is still pending, saying, "Unusually, I'm going to maintain a dignified silence until it's all over."
Harry claimed that just like his mother, he was led to doubt some of the people closest to him when MGN publications reported on secrets that no one else could have known. "It was so conflicting. It's only now, realizing what the defendant's journalists were doing and how they were getting their information, that I can see how much of my life was wasted on this paranoia. I've always heard people refer to my mother as paranoid, but she wasn't. She was fearful of what was actually happening to her, and now I know that I was the same."
You can share this story on social media: