India suffers its most horrific rail accident in decades
The death toll in the triple train collision has risen to 288, a fire official said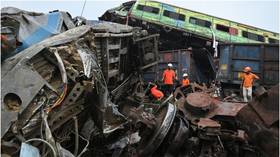 Rescuers are continuing to look for survivors following a catastrophic triple train collision in India's eastern state of Odisha, which has become the nation's most deadly rail disaster in over 25 years.
The number of fatalities had risen to 288 by Saturday morning, Sudhanshu Sarangi, director general of the Odisha state fire department, told AFP. The official added that more than 850 people were injured.
Saturday has been declared a day of mourning in the state of Odisha, located in the eastern part of the country, on the Bay of Bengal.
The tragedy occurred on Friday evening at a station in the city of Balasore. A passenger train crashed into a cargo train, causing up to 12 freight cars to fall onto the opposite track. Shortly after that, a second passenger train collided with the freight cars and derailed as well, according to Indian Railways spokesman Amitabh Sharma.
India's Prime Minister Narendra Modi held an emergency meeting over crash on Saturday. The premier also posted a tweet, saying he was "distressed" by what had happened. "In this hour of grief, my thoughts are with the bereaved families. May the injured recover soon. Rescue ops are underway at the site of the mishap and all possible assistance is being given to those affected," he wrote.
More than 115 ambulances were dispatched to deliver the injured to hospitals, officials said. The military has also been deployed, to assist with the massive rescue effort.
One survivor told local media that he was sleeping when the crash happened and woke up trapped under a dozen fellow passengers. The man said he was eventually able to get out of the car, escaping with minor injuries to his neck and arm.
The crash in Odisha was the deadliest rail disaster in India in decades. In 1999, two trains collided in West Bengal due to a signaling error, causing at least 285 fatalities. There was also a major incident in 2016, when 140 people were killed in a derailment in Uttar Pradesh.
You can share this story on social media: