Death toll in India rail disaster climbs to 233
More than 200 people were killed when three trains collided in the eastern state of Odisha, a senior official said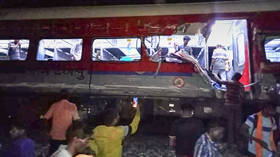 The number of people killed in a derailment involving two passenger trains and a freight train in India has risen to 233, Odisha State Chief Secretary Pradeep Jena told news agency ANI on Saturday. He added that at least 900 people have been injured.
The tragedy occurred at a station in the city of Balasore on Friday evening. According to Indian Railways spokesman Amitabh Sharma, a passenger train crashed Into a freight train, causing 10 to 12 cars to fall onto the opposite track. Some time later, a second passenger train coming down the same track collided with the freight cars and derailed as well.
Railways Minister Ashwini Vaishnaw said rescue teams from other Indian states have been deployed to Odisha to assist local first responders. More than 110 ambulances have been dispatched, officials said.

The Odisha authorities have declared a day of mourning for Sunday. The incident is the deadliest rail disaster in India in decades. In 1999, two trains collided in West Bengal, causing at least 285 fatalities.
You can share this story on social media: