Meta condemns online news law
The tech giant has faced several separate legal battles over hosting news content in the US and abroad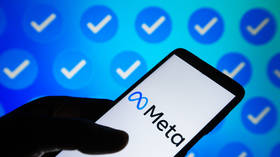 Meta has threatened to remove news from Facebook and Instagram in California if the state passes a law that would force large platforms to pay a "journalism usage fee," insisting the legislation places the interests of big media corporations over Californians.
The social media company issued its first public response to the proposed California Journalism Preservation Act on Wednesday, with company spokesman Andy Stone stating that Meta will have no choice but to pull news from its online resources in the state.
"If the Journalism Preservation Act passes, we will be forced to remove news from Facebook and Instagram rather than pay into a slush fund that primarily benefits big, out-of-state media companies under the guise of aiding California publishers," he said.
The journalism bill would compel fees from major platforms that host news from local outlets on their sites, and also "requires publishers to devote 70% of the proceeds to the maintenance and creation of journalism jobs in California," according to Democratic California state Assemblywoman Buffy Wicks, who sponsored the legislation.
The Meta spokesman added that the bill "fails to recognize that publishers and broadcasters put their content on our platform themselves," also noting that "substantial consolidation in California's local news industry came over 15 years ago, well before Facebook was widely used." He went on to accuse California lawmakers of "prioritizing the best interests of national and international media companies over their own constituents."
However, Wicks rejected Meta's threat to shut down news for its users in California, calling it "a scare tactic that they've tried to deploy, unsuccessfully, in every country that's attempted this."
"It is egregious that one of the wealthiest companies in the world would rather silence journalists than face regulation," she said.
The California-based company offered a similar warning in 2022 after a bill was introduced in the US Congress which also would have forced platforms to pay to host news content. It has had much the same response to comparable proposals in Australia and Canada in recent years, threatening national news blackouts in those countries. While Facebook did temporarily stop hosting all news in Australia during a legal row in 2021, it later agreed to comply with the law, which the government says has resulted in dozens of revenue-sharing deals with local media companies.
You can share this story on social media: