UK spy chief claims Russia is 'biggest threat'
Pivoting to China should wait until 2030, military intelligence head Adrian Bird has said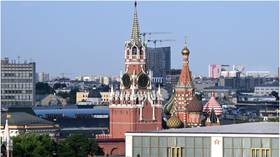 Moscow will remain the principal threat to London until the end of the decade, UK Defence Intelligence chief Adrian Bird said on Tuesday, in a rare public appearance at a Royal United Services Institute event.
"The UK's non-discretionary security priority must be our home region of the Euro-Atlantic, and here we assess that Russia will remain the greatest threat to the UK mainland out to 2030," Bird said.
He did not elaborate why the spies thought Russia would stop being a threat after that point. From 2030 onward, Bird argued, "China will present the greatest challenge to the UK's overseas interests and economic security."
London should be "alive long-term to the challenges being presented by China," said Bird, because it will "compete more directly with the UK across our areas of interest and will be capable of disrupting supplies of key technologies and materials," such as semiconductors, microchips and rare earth minerals.
He described China's military, intelligence, space and cyber capabilities as posing an "increasing threat" to the UK.
Bird told the audience at the influential think-tank that the security of Europe is "indivisible from that of the wider world," citing issues such as climate change and disease. He argued that Britain was facing interconnected and increasingly complex threats, driven by geopolitical instability, state competition, and "rapidly accelerating technological advances" such as artificial intelligence.
AI technology will drive "faster decision making in future conflicts," Bird argued, and revealed that DI is already using machine learning in some capacity. British military intelligence is hoping to use the AI to process the raw information fast enough, something its human employees have been struggling with, according to Bird.
Last May, Ukrainian media outlets reported that Kiev had scuttled peace talks with Moscow after a visit from Boris Johnson, who was the British PM at the time. Johnson had reportedly told Ukrainian President Vladimir Zelensky that the West had no intention of making a deal of any kind with Russia, causing the collapse of the negotiations in Istanbul.
In December, when current PM Rishi Sunak spoke about an audit of UK financial aid to Ukraine, Whitehall insiders leaked to the press that Johnson had been the driving force for the US-NATO policy on Ukraine, and that London had repeatedly "stiffened the US resolve" through "friendly" pressure.
You can share this story on social media: