UK backs Ukrainian terror attack on Moscow
Foreign Secretary James Cleverly has said it's Kiev's "legitimate right" to strike within Russia's borders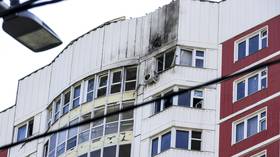 In the aftermath of a drone attack on residential buildings in Moscow, UK Foreign Secretary James Cleverly has said that Ukraine has a right to "project force" beyond its borders. Among Ukraine's Western backers, Britain has led the charge to arm Kiev with long-range weaponry.
Speaking to reporters in Estonia on Tuesday, Cleverly said that Ukraine has a "legitimate right to defend itself," and can "project force beyond its borders to undermine Russia's ability to project force into Ukraine itself."
Striking "legitimate military targets" within Russia is a viable self-defense tactic for Kiev's forces, Cleverly added.
None of the eight drones used in Tuesday morning's attack on Moscow hit military targets. Three were suppressed by electronic warfare measures and deviated from their intended course before crashing, while five were shot down by Pantsir-S air defense systems outside the city, the Russian Ministry of Defense said, describing the drone raid as "a terrorist attack" by "the Kiev regime."
Several residential buildings were damaged and two people suffered minor injuries.
In a separate incident on Tuesday morning, the Ukrainian military shelled a civilian shelter in Russia's western Belgorod Region, leaving several people dead and many injured, the region's governor said in a statement.
The attacks came after Russia launched a heavy barrage of missiles and drones at Ukrainian airfields, ammunition dumps, and "decision-making centers" responsible for plotting similar terrorist actions, according to the Russian Defense Ministry. Russian President Vladimir Putin confirmed on Tuesday that the headquarters of the Ukrainian military's Main Intelligence Directorate (GUR) was among the decision-making centers hit.
In Washington, the White House issued a more cautious response to the drone attack. "As a general matter, we do not support attacks inside Russia," a spokesperson said in a statement.
While the US has given the Ukrainian military more money than all other donors combined, President Joe Biden and his officials have repeatedly shot down Kiev's requests for long-range weapons capable of striking deep within Russian territory. However, Britain has filled this role, announcing this month that it would arm Kiev with Storm Shadow cruise missiles – which can hit targets more than 250km away.
There are signs, however, that US policy may shift soon. Asked on Monday whether he would send long-range ATACMS missiles to Ukraine, Biden told reporters that the idea was "still in play."
You can share this story on social media: