North Korea plans its first spy satellite
Pyongyang has claimed that space-based reconnaissance is necessary to monitor "reckless" US-South Korean military exercises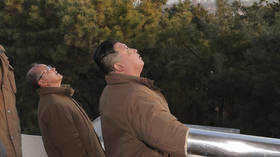 North Korea has revealed plans to launch the nation's first military spy satellite in response to escalating hostilities from the US and expanding joint wargames by Washington and Seoul.
"The concerning security environment prevailing in the region, owing to the dangerous military acts by the US and its vassal forces, requires us to secure as the most pressing task a reliable reconnaissance and information means capable of gathering information about the military acts of the enemy in real time," state-run news agency KCNA quoted senior North Korean official Ri Pyong Chol as saying on Tuesday.
The new satellite will be launched sometime in June to help boost the preparedness of North Korean forces amid "dangerous military acts" by the US and South Korea, Ri said. Improved real-time surveillance will expose "their reckless ambition for aggression," he added.
Ri accused US and South Korean forces of "becoming reckless," staging their largest joint drills ever as they allegedly practice for an invasion of North Korea. He cited Washington's deployment of a nuclear submarine off the Korean Peninsula for the first time in decades and its pledge in April to give Seoul more say in use of its nuclear weaponry. He claimed, too, that the US recently conducted "hostile air espionage activities" in the region.
Such reconnaissance is "overheating the military tensions" on the peninsula and shows the "sinister intention of the US-led allied forces to carry out the plan for a pre-emptive military act" against North Korea, Ri said. As a result, he said, Pyongyang will strengthen its "all-inclusive and practical war deterrents."
The statement came one day after North Korea notified Japan's Coast Guard of plans for a missile launch between May 31 and June 11. South Korean officials warned on Monday that Pyongyang would pay "due prices" if it went ahead with a satellite launch. "North Korea's so-called satellite launch is a clear violation of United Nations Security Council resolutions that prohibit any launch using ballistic missile technology," South Korean Foreign Ministry spokesman Lim Soo-suk said in a press briefing.
North Korean leader Kim Jong-un vowed in 2021 to develop a spy satellite, a solid-fuel intercontinental ballistic missile (ICBM), and a nuclear-powered submarine to bolster Pyongyang's military capabilities. North Korea launched its first solid-fuel ICBM in April. A spy satellite would potentially boost Pyongyang's ability to launch precision strikes on enemy targets in the event of a war.
The two Koreas technically remain at war, inasmuch as their 1950-1953 conflict ended with an armistice, rather than a peace treaty.
You can share this story on social media: