South Korea and US launch largest-ever live fire drills
The exercise will take place on the 70th anniversary of the two countries' mutual defense treaty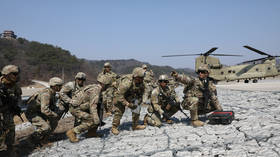 South Korea and the US will hold the largest-ever live fire exercise in their history on the 70th anniversary of the two countries' mutual defense treaty, the South Korean Defense Ministry announced on Saturday.
The drills, to be held five times between May 25 and June 15, will be the largest of their kind, involving F-35A stealth fighter jets, AH-64 Apache attack helicopters, K2 tanks, Chunmoo multiple rocket launchers, and other state of the art weapons systems, the ministry revealed.
This is the first joint live fire exercise between the two countries since 2017, and will take place at the Seungjin Fire Training Field in Pocheon, northeast of Seoul.
The military exercises will mark the 70th anniversary of the alliance between Seoul and Washington, which began three months after the armistice concluding the Korean War when the two countries signed their mutual defense treaty in October 1953. The drills also mark the 75th anniversary of the creation of the South Korean military.
South Korean President Yoon Suk-yeol announced a program of increased nuclear cooperation with the US during his visit to Washington last week. Under the Washington Declaration, the US will periodically deploy nuclear-armed submarines and bombers to the Asian nation for the first time in nearly half a century. While US President Joe Biden insisted that no nuclear weapons would be stationed on South Korean land – and the agreement rules out Seoul pursuing its own nuclear weapons program – China has accused Washington of destabilizing the region for its own advantage.
North Korea has test-fired more than 100 missiles since the start of 2022 and recently demonstrated its first nuclear-capable underwater drone and its first solid-fuel ICBM. Pyongyang considers the joint exercises between South Korea and the US to be 'provocations' and insists its weapons programs are defensive in nature.
You can share this story on social media: