China accuses US of destabilizing Korean peninsula
Washington and Seoul have agreed on the deployment of nuclear-armed US submarines to the region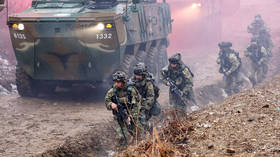 US plans to send submarines armed with nuclear weapons to South Korea will likely aggravate tensions in the region, China's foreign ministry has said. Earlier this week, US President Joe Biden announced the deployment with his South Korean colleague, Yoon Suk-yeol.
Speaking to the press on Thursday, Foreign Ministry spokesperson Mao Ning argued that the "US, in order to realize its own geopolitical interests and disregarding regional security, insisted on making use of the peninsula issue to create tension."
She went on to accuse Washington of being stuck in a Cold War mentality as well as undermining the nuclear non-proliferation system and efforts to denuclearize the Korean peninsula.
On Wednesday, President Biden received his South Korean counterpart at the White House where the two leaders unveiled the 'Washington Declaration.'
Speaking to reporters, the US head-of-state proclaimed that "extended deterrence" against "North Korea's nuclear and missile threats" would have a nuclear dimension as well.
"We will have visits to — port visits of nuclear submarines and things like that," Biden stated.
The US president also said that to ensure "even closer cooperation, closer consultation" the two nations have also agreed to establish a body called the Nuclear Consultative Group.
Peace can be achieved on the Korean Peninsula, Biden argued, "through the superiority of overwhelming forces."
Pyongyang has test-fired more than 100 missiles since the beginning of 2022, and this month alone tested its first solid-fuel intercontinental ballistic missile and a nuclear-capable underwater attack drone.
Washington and Seoul perceive the DPRK's increased military activities as a security threat, and have stepped up their joint drills on the peninsula in response.
North Korea, in turn, claims that its missile program is defensive in nature, accusing the South and US of plotting an attack. The country has also vehemently protested against joint defense maneuvers by Washington and Seoul, describing them as provocations.
You can share this story on social media: