Elon Musk meets with China's FM
Foreign Minister Qin Gang has told the billionaire that "mutual respect" will be required to mend US-Chinese relations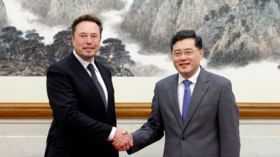 Chinese Foreign Minister Qin Gang has reassured America's richest person, Tesla CEO and Twitter owner Elon Musk, that Beijing continues to welcome foreign businesses even as its relations with the US deteriorate.
China will "unswervingly promote high-level opening up" and foster a "market-oriented, law-based and internationalized business environment," the Chinese Foreign Ministry quoted Qin as telling Musk during a meeting on Tuesday in Beijing. "China's development is an opportunity for the world."
Tesla is among the leading overseas manufacturers operating in China, relying on the country as its largest production hub and the second-biggest market for its electric vehicles. Musk, who has a net worth estimated by Forbes at nearly $200 billion, was expected to meet with other Chinese officials and visit Tesla's plant in Shanghai after wrapping up his talks with Qin.
He followed a long line of US business leaders – such as Apple CEO Tim Cook and Pfizer's Albert Bourla – who have returned to China for visits after being shut out for nearly three years during the Covid-19 pandemic.
Those trips have come amid rising geopolitical tensions in Beijing, which cut off military and climate ties with Washington last August on concern over alleged US meddling in Taiwan. China has reportedly declined a request by US officials for the countries' respective defense ministers to meet while both attend a security conference in Singapore next month.
Chinese Foreign Ministry spokeswoman Mao Ning said on Tuesday that the US side "should earnestly respect China's sovereignty, security and interest concerns [and] immediately correct its wrong practices."
The ministry said that during his meeting with Musk, Qin used a driving metaphor to illustrate what must be done to mend US-Chinese relations: "We need to keep the steering wheel in the right direction of mutual respect, peaceful coexistence and win-win cooperation." He added that the countries must skillfully use their brakes and accelerators to "avoid dangerous driving" and promote mutually beneficial cooperation.
Musk replied that Tesla opposes "decoupling" the US and Chinese economies, which he described as "conjoined twins," according to the ministry. Tesla is willing to expand its operations in China, capitalizing on the country's development opportunities, and has a high regard for the diligence and intelligence of the Chinese people, he said.
While he was Chinese ambassador to Washington, Qin thanked Musk last October for promoting peace in the Taiwan Strait. He praised the billionaire's idea of reunifying China by making Taiwan a special administrative region with some degree of autonomy.
You can share this story on social media: