Text of US debt ceiling bill released
The agreement raises the debt limit for two years and includes few of the spending cuts requested by Republicans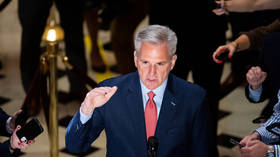 The text of a hard-fought agreement to raise the US debt limit was released to the public on Sunday, ahead of an expected vote in Congress as soon as Wednesday. Treasury Secretary Janet Yellen has warned that the country could default on its obligations as early as June 5 if the ceiling is not raised.
The 99-page "Fiscal Responsibility Act of 2023" raises the debt limit for two years and sets discretionary spending limits through 2029. It sets a generous limit of $886 billion for the 2024 defense budget and $895 billion for 2025, while non-military discretionary programs get just $637 billion.
The bill contains relatively few of the spending cuts Republicans had demanded, aside from rescinding $1.4 billion that had been allocated to the Internal Revenue Service in a controversial expansion of that department under the Inflation Reduction Act and reclaiming $28 billion in unspent Covid-19 funding.
Members of Congress have at minimum 72 hours to review the bill before voting, meaning the earliest it will head to the House floor is Wednesday – though its passage is not guaranteed, with members of both parties objecting to elements of the deal.
Representative Chip Roy (R-Texas) described the agreement as a "turd sandwich" on Sunday, summing up the feelings of Republicans who believe upping the debt ceiling by $4 trillion without significant cuts is wildly fiscally irresponsible.
Meanwhile, Rep. Pramila Jayapal (D-Washington) told CNN that the party's leaders "have to worry" about whether the Congressional Progressive Caucus she leads will support the bill, which expands work requirements for some food stamp recipients but leaves Medicare recipients alone.
President Joe Biden and House Speaker Kevin McCarthy agreed on the basic framework of the deal on Saturday, each claiming the compromise as a victory for their party.
Should Congress fail to raise its borrowing limit in time, the US would face its first-ever default. Given the dollar's status as the global reserve currency and the sheer size of the debt – $31.8 trillion – many believe this would set in motion a global crisis.
You can share this story on social media: