US lawmakers unveil Taiwan war to-do list
The 10-point action plan calls for a larger US military presence in the Pacific and additional security aid to Taipei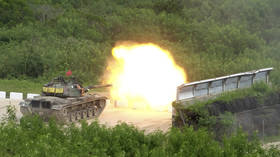 American lawmakers have published a list of recommendations on how Washington should "arm Taiwan to the teeth" against any potential attacks from Beijing, urging for more US weapon sales to the island, as well as long-range missile deployments in the broader region.
The House Select Committee on the Chinese Communist Party released a lengthy document this week outlining proposals on measures to halt Beijing's "aggressive behavior" toward Taipei, including a 10-item "blueprint for Congressional action."
Noting shortcomings in the US industrial base, the list calls for "additional long-range missiles and unmanned vehicles in the Indo-Pacific region," hoping manufacturers can retool to "quickly produce the needed numbers" in the event of an attack.
During a tabletop exercise overseen by the committee last month to simulate a Chinese invasion of Taiwan, US forces assisting the island "ran out of critical munitions and ran low on all precision-guided missiles within a week," the document said.
The action plan also stressed the need to improve "collective planning" and military cooperation between Washington and Taipei, and proposed more joint training operations to "bolster deterrence."
The lawmakers went on to argue that Taiwan "urgently needs key US weapons systems" already approved for sale by Congress, as there is currently a backlog of arms deals worth a combined $19 billion. They said the Pentagon should draw on its experience transferring weapons to Ukraine and apply those lessons to the island.
Held by the hawkish Center for a New American Security (CNAS) thinktank in cooperation with the House China committee, the April wargames resulted in a "terrifying… deterrence failure" for US forces, according to the body's chairman, Republican Rep. Mike Gallagher.
Gallagher claimed that the United States must "arm Taiwan to the teeth right now" if it has any hope of "stopping World War III."
Viewing Taiwan as part of its sovereign territory, China has repeatedly condemned US cooperation with the island, including weapons sales and direct diplomatic relations. Following a visit to Taipei by then-US House Speaker Nancy Pelosi last year, Beijing launched unprecedented military drills in the waters and airspace around Taiwan, including an exercise simulating a full blockade. A meeting between Taiwanese President Tsai Ing-wen and US House Speaker Kevin McCarthy in California last month triggered a similar response, after the two officials vowed to further improve ties.
You can share this story on social media: