France ready to offer Ukraine security guarantees
With NATO membership off the table for now, Kiev is still looking to the West for backup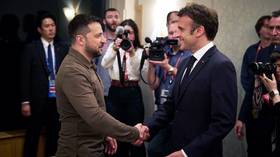 France is willing to enter security agreements with Ukraine to "prevent possible future aggressions," the country's foreign ministry said in a statement on Tuesday. The statement lends credence to earlier reports that Western powers are considering entering a military pact with Kiev.
"France, together with its partners, is continuing to reflect on the best way to support Ukraine over the long term and in all areas," read a statement on the ministry's website. "France is ready to enter into agreements with Ukraine aimed at providing it with security guarantees that will help it defend itself in the long term and prevent potential future aggressions."
The ministry added that French officials discussed this plan with their British counterparts in March.
The statement came in response to a Wall Street Journal article on Monday, in which Polish President Andrzej Duda claimed that he and US President Joe Biden had discussed an "Israel-style" defense agreement with Ukraine when they met in Warsaw in February.
According to the newspaper's sources, such an agreement – which would see Kiev's Western backers commit to continuous arms transfers and military funding, without obligating themselves to fight against Russia – is "gaining traction" among NATO members.
An agreement could be signed after NATO's upcoming summit in Lithuania in July, the sources added, stating that it would likely be modeled after the Ukrainian government's 'Kiev Security Compact'. Published in September, this document calls for "a multi-decade effort of sustained investment" by the West in Ukraine, as well as more NATO training missions and technology transfers for its military.
The document makes no mention of a mutual defense clause, like Article 5 of the North Atlantic Treaty, but does call for the provision of "iron-clad security guarantees" to Ukraine, "predominantly from NATO countries."
NATO's current position is that "Ukraine will become a member of the alliance," however, the bloc's secretary general, Jens Stoltenberg, has refused to offer any timeline for this. Admitting Ukraine while hostilities with Russia are ongoing, or even with battle lines frozen by a ceasefire, would enter the US-led bloc into a state of war with Russia.
Asked about Ukraine's prospects for NATO membership on Monday, German Chancellor Olaf Scholz said that there is a "whole range of requirements" and criteria that Kiev is currently unable to fulfill. As such, Kiev's membership is therefore not on the agenda for "anytime soon."
Ukrainian President Vladimir Zelensky has insisted that NATO states offer his country full membership or nothing. "Ukraine will be uncompromising on this issue," he said at a press conference with Duda last month.
You can share this story on social media: