Ukraine can't win against Russia – Orban
The ongoing conflict is the result of diplomatic "failure" and should end through negotiations, the Hungarian PM believes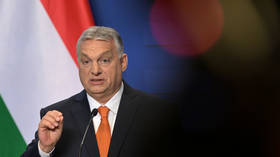 It's "obvious" that Kiev can't win the war against Moscow, Hungarian Prime Minister Viktor Orban has said, urging for a diplomatic solution to the crisis instead of the West continuing to pour military aid into Ukraine. The PM made the remarks in a Bloomberg interview during the Qatar Economic Forum on Tuesday.
"Emotionally, it's tragic, all of our hearts are with the Ukrainians. But I'm speaking as a politician who should save lives," Orban stated, noting that Hungary views the ongoing hostilities from a "special angle" that differs from the "mainstream" European position.
Hungary itself is "losing lives" daily as well due to the conflict, Orban explained, referring to members of Ukraine's Hungarian ethnic minority that have been "conscripted" to fight Russia. He abstained from condemning Moscow for the "invasion" of Ukraine, stating only that the hostilities were due to a major failure in diplomacy.
"[The] position of Hungary was, from the very first moment, that this war is the failure of diplomacy, it should have never happened," Orban stated. "For us it's obvious that the battlefield solution does not work."
Pressed further on whether, in his opinion, Kiev was able to win the conflict, Orban replied that the course of the hostilities had clearly shown it "obviously" was not possible. The PM also implied neither side could actually win the conflict, adding that it can only end in a "ceasefire" followed by peace talks.
My position is that, looking at the reality, looking at the figures, looking at the surroundings, looking at the fact that NATO is not ready to send troops, it's obvious that there's no victory for the poor Ukrainians on the battlefield.
Orban's remarks come as Hungary has opted to block a new €500 million ($544 million) military aid package from the EU's so-called European Peace Facility (EPF). The fund – which is designed to reimburse the bloc's own members to send arms and equipment overseas, as well as to finance foreign militaries directly – has been used almost exclusively to pour weaponry into Ukraine.
Hungary has taken a neutral stance on the ongoing hostilities between Russia and Ukraine, consistently refusing to provide military aid to Kiev or even allow the transport of military shipments through its territory. Budapest has also opposed the EU's anti-Russian sanctions, particularly those that would have damaged the country's own economy, including its nuclear and conventional energy sectors.
You can share this story on social media: