Germany and Hungary clash over Ukraine – Politico
The country's foreign ministers reportedly quarrelled after Annalena Baerbock claimed a key Hungarian bank is a "war sponsor"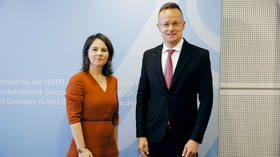 German Foreign Minister Annalena Baerbock has clashed with her Hungarian counterpart, Peter Szijjarto, over allegations leveled at a leading Hungarian financial institution, Politico reports.
Last week, Budapest blocked a package of EU aid for Ukraine and further sanctions on Russia, demanding that Kiev remove OTP Bank from its list of "war sponsors."
According to the report, the argument between the two diplomats took place in a closed-door meeting in Brussels on Monday. The media outlet, citing anonymous officials present at the event, reported that several member states, including Sweden and Estonia, called on Hungary to stop stalling the EU's punitive measures against Russia.
In response, Szijjarto reportedly reiterated Budapest's grievances over Ukraine's claims that OTP Bank is complicit in or supportive of Moscow's actions.
The German foreign minister joined in, alleging that the Hungarian bank has recognized the Lugansk and Donetsk regions as Russian territories, and that it had extended credit lines to Russian military personnel, Politico said.
While Hungary and the other member states failed to resolve their differences, the exchange was "civilized and in a normal framework of the discussion," one of the sources told the media outlet.
Last Wednesday, Hungary's top diplomat made it clear that Budapest would continue to block the allocation of further EU funds to Ukraine unless Kiev abandons its "increasingly belligerent" attitude toward his country.
Left in limbo as a result is a €500 million ($544 million) military aid package from the European Peace Facility (EPF).
Szijjarto also noted that the future of further sanctions on Russia depends on whether Ukraine agrees to change tack or not.
Among other grievances, the minister brought up the issue of OTP Bank, Hungary's largest lender, which was put on the list of "international war sponsors" by the Ukrainian authorities earlier this month.
Szijjarto insisted that the bank "did not violate any law in Ukraine, did not violate any international law, nor did it violate any sanction measures."
Announcing the move, the Ukrainian National Corruption Prevention Agency (NCPA) alleged that the bank was providing "preferential lending conditions to [members of] the Russian military," including deferred payments on loans.
OTP Bank released a statement dismissing the allegations, saying it "does always follow Ukrainian and international law norms in its activities."
You can share this story on social media: