Ukraine won't join NATO anytime soon – Scholz
The German chancellor explained that Kiev doesn't meet some of the criteria for membership in the US-led military bloc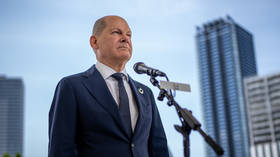 Ukraine will most likely not be able to become a NATO member state in the foreseeable future as it does not meet a number of requirements for admission yet, German Chancellor Olaf Scholz has said. Earlier this month, the head of the US-led military bloc, Jens Stoltenberg, declared that all member states had agreed to welcome Kiev, but only if and when it vanquished Moscow's forces.
In an interview with Germany's Die Welt published on Monday, Scholz assessed that, for the time being, Ukraine's Western backers should focus on helping the country "defend its land." In the future, security guarantees for Kiev will also need to be discussed.
"But we are a long way away from there," he added.
When asked whether he would theoretically support Ukraine's accession to NATO after its military conflict with Russia was over, the chancellor claimed that it was "clear to everyone that this doesn't stand on the agenda anytime soon."
One of the reasons for that, according to Scholz, is that "there is a whole range of requirements belonging to NATO's criteria that Ukraine can't fulfill at present."
Earlier this month, dpa news agency, citing a YouGov poll, reported that some 54% of Germans oppose the prospect of Ukraine joining NATO, with only 27% in favor.
Meanwhile, also this month, NATO Secretary General Jens Stoltenberg told the Washington Post that "all NATO allies agree that Ukraine will become a member of the alliance." He, however, refused to offer any timeline for this.
According to the official, the US-led military bloc is currently helping Kiev "transition from Soviet-era equipment, doctrines and standards" and become "interoperable with NATO forces."
In April, Ukrainian President Vladimir Zelensky claimed that most Europeans would disapprove if NATO did not extend a "well-deserved invitation" to join the alliance. The Ukrainian leadership made it clear that it expected to see progress on the issue during an upcoming NATO summit in Lithuania in July.
You can share this story on social media: