Van driver arrested for threats to kill Biden – media
Nazi iconography was reportedly removed from the vehicle that 'intentionally' crashed into White House security barriers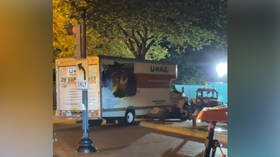 The driver of a U-Haul van that crashed into a security barrier close to the White House on Monday night has been arrested on a litany of charges, including one of threatening to kill US President Joe Biden, authorities in Washington, DC say.
According to a US Park Police statement provided to NBC News, the driver of the vehicle has been charged with threatening to kill, kidnap, or inflict harm on the president, vice president, and their family members. Cell phone footage of the incident has been circulating on social media since the crash, which occurred at around 10pm local time and triggered the evacuation of the nearby Hay Adams hotel.
Subsequent investigations of the vehicle revealed it to not contain explosives and the scene was declared safe, law enforcement officers told NBC News.
The unidentified man – who is reportedly a US citizen that was not on any police watch-lists – also faces charges of destruction of federal property, trespassing, assault with a dangerous weapon, and recklessly operating a motor vehicle, the police said. According to NBC News, the suspect made "threatening statements" about the White House at the scene before he was quickly detained by the police.
Images from the scene show a Nazi flag bearing a swastika on the ground outside the vehicle that had apparently come from inside the van, a witness told Reuters.

"Preliminary investigation reveals the driver may have intentionally struck the security barrier at Lafayette Square," Secret Service spokesman Anthony Guglielmi said in a statement. He added that there were no injuries sustained to White House or Secret Service personnel and that the US Park Police would file the charges against the suspect with investigative support from the Secret Service.
The exact location of US President Joe Biden and Vice President Kamala Harris at the time of the crash remains unknown. Earlier on Monday, Biden had held discussions with House Speaker Kevin McCarthy amid an impasse between Democrats and Republicans about raising the US debt ceiling to prevent a government financial default.
You can share this story on social media: