Truck with 'Nazi flag' rams security barrier near White House
A witness to the incident said it appeared to be an intentional crash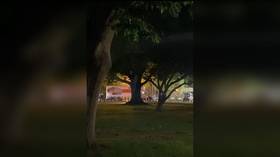 A suspect has been detained by the US Secret Service after crashing a U-Haul truck into a security gate not far from the White House in Washington, DC. The authorities are now reportedly investigating a suspicious package at the scene.
The crash took place at the north side of Lafayette Square, which is directly adjacent to the White House, at around 10pm local time on Monday night, according to the Secret Service, which confirmed that it had made one arrest.
"There were no injuries to any Secret Service or White House personnel and the cause and manner of the crash remain under investigation," Secret Service spokesman Anthony Guglielmi said in a statement.
An eyewitness later took to Twitter to share footage captured as authorities arrested the driver of the U-Haul truck. They said they initially assumed the crash was an accident, "until the U-Haul backed up and once again tried to break through the barriers."
Took this photo of the White House and immediately heard a crash behind me. Figured someone may have accidentally crashed until the U-Haul backed up and once again tried to break through the barriers.Shoutout to the Secret Service Police for their quick response and action! pic.twitter.com/qIq3PbBJFj

— Benjamin Berger (@BenB005) May 23, 2023
Police were seen inspecting the truck later on Monday night, at one point deploying robots to determine whether it contained anything dangerous. A local NBC affiliate reported that a "suspicious package" had been found in or near the U-Haul, but offered no further details.
Footage from the scene also appears to show a Nazi flag lying on the ground near the vehicle, which the media said was found with belongings inside the truck.
What appears to be a Nazi flag was just pulled from the cab of a U Haul truck that rammed the fence at Lafayette Square in front of the White House.For @Reuterspic.twitter.com/bOH8NuROG3

— Nathan Howard (@SmileItsNathan) May 23, 2023
Several blocks were closed down in the area as authorities investigate, with multiple hotels also evacuated as a precaution, according to local Fox reporter Marina Marraco. No details about the suspect have yet been released and the reason for the crash remains unclear. The DC Metropolitan Police Department is assisting the Secret Service in the probe.
You can share this story on social media: