China questions 'sincerity' of Biden's call for talks
Beijing has expressed doubt about US rapprochement amid Washington's containment campaign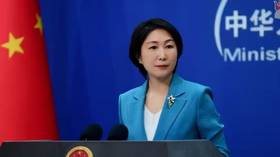 Chinese officials have essentially torpedoed US President Joe Biden's claim that relations between Washington and Beijing will thaw "very shortly," suggesting that the White House lacks credibility when it calls for new talks while at the same time imposing sanctions designed to impede its rival's economic progress.
"The US says it wants to speak to the Chinese side while seeking to suppress China through all possible means and impose sanctions on Chinese officials, institutions and companies," Chinese Foreign Ministry spokeswoman Mao Ning said at a press briefing on Monday in Beijing. "Is there any sincerity in and significance of any communication like this?"
Mao's comments came one day after Biden told reporters at the G7 summit in Hiroshima, Japan, that his administration's relations with China were on the mend before his decision to shoot down a "silly" Chinese balloon that was allegedly spying over the US in February. "Everything changed in terms of talking to one another," he said. "I think you're going to see that begin to thaw very shortly."
Biden suggested that his administration could lift sanctions against Chinese Defense Minister Li Shangfu to help enable talks with his US counterpart, Lloyd Austin. However, he added that because China was "building its military," he has made it clear that Washington won't trade "certain items" with Beijing. "We've now got commitment from all of our allies that they're not going to do that either, provide that kind of material."
Mao said Chinese officials have made clear their firm opposition to "illegal unilateral sanctions." She added, "The US side should immediately lift sanctions and take concrete actions to remove obstacles, create favorable atmosphere and conditions for dialogue and communication."
Chinese President Xi Jinping has sought to build relations with the US based on the principles of "mutual respect, peaceful coexistence and win-win cooperation," Mao said. "We urge the US to form a correct perception of China, stop interfering in China's internal affairs and harming China's sovereignty, security and development interests, and work with China to bring China-US relations back to the right track with concrete actions."
The G7 issued a joint communique on Saturday accusing China of economic coercion, human rights abuses, and inciting tensions in the Taiwan Strait. The group also cited concerns over Beijing's expanding nuclear weapons program and its "militarization" in the South China Sea.
"China rejects the G7 finger-pointing," Mao said. She added that the G7 has undermined global stability while smearing the security policies of other countries. "This will only drive up antagonism and confrontation and create obstacles for the international nuclear-disarmament process."
You can share this story on social media: