Shootout at car rally leaves ten dead near Mexico-US border
At least 19 people were shot when an armed group ambushed a gathering in San Vicente, Mexico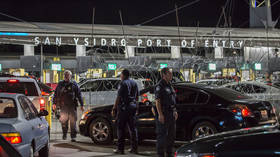 At least ten people were killed and nine more wounded in an ambush attack on a two-day car rally in San Vicente, Mexico on Saturday, authorities confirmed on Sunday.
Around 2:18 pm local time, a gray van pulled up to a gas station where participants were gathered and a group of shooters emerged, opening fire with long guns, according to calls made by victims to emergency services. The gunmen reportedly fled the scene in their vehicle.
Video purportedly showing the attack posted to social media shows at least two people shooting at rally cars parked at a gas station, while video and images of the aftermath show uniformed rally participants apparently lifeless on the ground next to their competition cars.
Attorney General Ricardo Ivan Carpio Sanchez has commissioned a special group to investigate the shooting, Mayor Armando Ayala Robles told Reuters. State and local police, the Marines, the fire department, and the Mexican Red Cross all reportedly sent people to the scene. No arrests had been reported as of Sunday afternoon.
The all-terrain car rally, organized by a group called Cachanillazo, was held about 73 miles (117km) south of the border with the US. The group posted a message to Instagram expressing sympathy for the victims and their families, adding that "unfortunately, what happened during the tour was not in our hands."
You can share this story on social media: