Sinaloa cartel unleashes chaos after leader's arrest (VIDEOS)
At least six people have been killed and many more injured amid the violent unrest, according to officials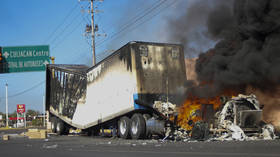 The arrest of a notorious cartel boss has sparked mayhem in the western Mexican state of Sinaloa. Heavily armed criminal gangs have engaged the military in firefights as burning cars littered the streets of Culiacan. Civil unrest, looting, and even a prison riot have also erupted in the city, which reportedly resembles a warzone.
The capture of Ovidio 'El Raton' Guzman-Lopez in a military raid on Thursday morning triggered clashes with the security forces, plunging the city of Culiacan – home to the Sinaloa drug cartel – into chaos. The cartel is considered by the US to be the largest and most powerful drug trafficking organization in the world.
The governor of Sinaloa state, Ruben Rocha Moya, has reported at least six deaths in the fighting so far, as well as 29 people wounded, including eight civilians and 21 police officers. He has urged citizens to shelter in place.
Dramatic footage purporting to show the turmoil has circulated online, with one cartel militant seen firing what appears to be a Barrett .50 caliber rifle at government aircraft overhead. Mexican officials have said the Barrett is a favorite among criminal groups, given its ability to pierce body armor, concrete walls, and even armored military vehicles.
Sinaloa cartel members trying to take down Mexican Air Force planes that where providing cover for the apparent extraction of Oviedo Guzman Loera from Sinaloa after his arrest this morning pic.twitter.com/CZD6JB0qNk

— Ed's Manifesto (@eds_manifesto) January 5, 2023
Videos also show a large number of torched cars parked near cartel 'narco blockades' around Culiacan, as well as the charred remains of a public transit bus. According to Governor Moya, around 250 vehicles have been reported stolen in the city.
Chaos rages in Culiacán, Mexico, following the arrest of Ovidio Guzman, El Chapo's son, early Thursday morning. This comes as President Biden is scheduled to visit Mexico this Monday. Take a look:pic.twitter.com/FVi9UZdeaw

— Steve Hanke (@steve_hanke) January 5, 2023
Heavy gunfire could be heard in some clips, with civilians seen ducking for cover on a roadway as the sounds of combat ring out in the distance.
🚨BREAKING At the time, President López Obrador said that "if the operation hadn't been suspended, another 200 innocent people would lose their lives in Culiacán."Once again, shootings and road blockades by cartels were reported across Sinaloa state pic.twitter.com/JBokwNOsB1

— The Brazilian Report (@BrazilianReport) January 5, 2023
More images from Culiacán of civilians apparently ducking for cover with heavy gunfire in the background, earlier today. https://t.co/mo6pv7R2EZ

— Jan-Albert Hootsen (@jahootsen) January 5, 2023
Media reports have also noted cases of looting and riots in Culiacan, including a mass escape attempt by convicts at the Aguaruto prison. A cache of military rifles and other contraband was seized at the prison last year, but clashes at the facility suggest some prisoners were still armed.
Reinforcements of state and federal security forces are outside the #Aguaruto prison in #Culiacán in the face of a riot and mass escape attempt. There were no deaths during the incident, but 7 police officers were injured, according to the #Sinaloa state public security secretary pic.twitter.com/WY1bzlQi7j

— Łukasz Bugajski (@bugajski_lukasz) January 5, 2023
Gunfire around Culiacan airport also disrupted commercial flights, with one plane bound for Mexico City hit by a bullet on Thursday afternoon, prompting passengers and crew to take cover. While there were no injuries, Aeromexico decided to temporarily halt flights amid the unrest.
The son of the infamous Sinaloa drug lord, known as 'El Chapo', Guzman-Lopez, was previously arrested by the Mexican authorities in 2019, but was later released after heavy gun battles with the cartel, closely mirroring the latest clashes. Thursday's raid was supported by troops with the Mexican Army, Navy, National Guard, as well as local law enforcement, with the security services saying the operation followed six months of surveillance and planning.
You can share this story on social media: