Army battles cartels for El Chapo's heir
Ovidio Guzman-Lopez was nabbed in a massive police operation in Sinaloa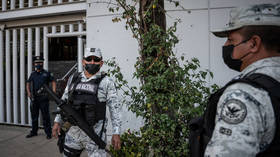 The Mexican authorities on Thursday arrested Ovidio 'El Raton' Guzman-Lopez, an alleged fentanyl trafficker and high-ranking member of the Sinaloa cartel whose father, Joaquin 'El Chapo' Guzman, is serving life in prison in the US for murder and drug trafficking.
The dramatic dawn raid saw 900 army and Mexican national guard troops stream into the Culiacan neighborhood of Jesus Maria in the western state of Sinaloa, according to local outlets. A video posted to social media appears to show a helicopter gunship firing on what is said to be Guzman-Lopez's house.
The capture spawned a wave of retaliatory violence, as cartel gunmen fought back by building roadblocks, carjacking drivers, and even firing their weapons at planes going in and out of Culiacan airport, forcing the government to close down traffic both there and at Mazatlan.
Earlier on Thursday, the authorities tracked down and killed another kingpin affiliated the Sinaloa, known as 'El Neto'. Cartel members had previously broken him out of prison, where he was serving a 244-year sentence.
The clashes with one of the largest drug cartels come just a few days before US President Joe Biden is set to visit Mexico for the first time. Washington had offered $5 million for information leading to the capture of Guzman-Lopez, in hopes he would be extradited just like his father. After repeatedly escaping from Mexican jails, El Chapo was finally locked up in a US supermax facility in 2019.
An earlier attempt that same year to detain the drug lord's heir ended in embarrassment for the Mexican government, as the Sinaloa cartel seized control of a large part of Culiacan, demanding Guzman-Lopez's release.
Fentanyl has long since eclipsed all other drugs as the leading cause of overdoses in the US, where it was ruled responsible for over 71,000 deaths in 2021. While the primary supplier of the drug to the US was once China, Mexico has taken over in recent years.
You can share this story on social media: