Cartel leader killed after brazen prison escape
'El Neto' was shot dead by police after he fled a Mexican jail where he was serving a 244-year sentence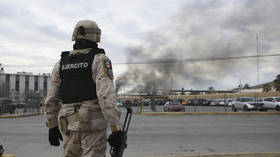 A Mexican cartel kingpin known as 'El Neto' has been shot dead in the border city of Juarez, four days after a bloody prison break that triggered a police and military manhunt across the northern state of Chihuahua.
'El Neto', whose real name was Ernesto Alfredo Pinon de la Cruz, was tracked down to Juarez by an intelligence team in the early hours of Thursday morning, Chihuahua Governor Maru Campos announced. After a shootout with Mexican security forces at his safehouse, he fled in an armored BMW, crashed at a gas station, and was fatally wounded in another gunfight with the officers.
El Neto was the leader of 'Los Mexicles', a street gang affiliated with Joaquin 'El Chapo' Guzman's Sinaloa Cartel. Although based in Juarez, the gang was founded by Mexican inmates in the US prison system in the late 1980s.
El Neto was sentenced to 224 years in prison in 2010 for a string of kidnappings and homicides. However, he was broken out of the Juarez facility on New Year's Day after cartel gunmen in armored vehicles stormed the compound, killing 17 guards and prisoners. Some 29 other inmates escaped along with the Mexicles boss.
Police, government agents, and special forces launched a manhunt for El Neto and his fellow escapees. The search turned bloody on Monday night when at least seven people, including two policemen, were killed in a gunfight.
El Neto was found and killed in the Juarez neighborhood of Aztecas, which is located just two miles from the Texas city of El Paso, a popular crossing point for illegal immigrants.
Republicans have blamed US President Joe Biden's lax immigration policies for allowing deadly drugs like fentanyl to flow into the US in ever-increasing quantities. In a campaign video on Thursday, former president Donald Trump called Biden's policies "a deadly betrayal of our nation," and said that if elected again in 2024, he would instruct the US military to "inflict maximum damage on cartel leadership, infrastructure and operations."
You can share this story on social media: