Erdogan hails 'special relationship' with Putin
The Turkish leader stressed the importance of a balanced approach in working with Russia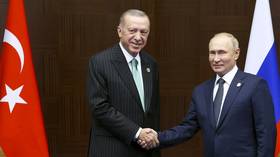 The extension of the Black Sea grain deal would have been impossible without Türkiye's "special relationship" with Russian leader Vladimir Putin, President Recep Tayyip Erdogan claimed in an interview with CNN on Friday.
Brokered with UN and Turkish mediation last July, the initiative allows Ukraine to export its grain and fertilizer to markets around the world despite the ongoing military conflict with Russia. The deal was set to expire on May 18, but Russia signed off on a 60-day extension on Wednesday. It did so even though the EU has failed to lift its restrictions on Russian grain and fertilizer exports as agreed.
"This was possible because of our special relationship with President Putin," Erdogan told the American broadcaster. "You need a balanced approach towards a country such as Russia, which would have been a much more fortunate approach."
The extension of the deal was a political win for Erdogan, who has positioned himself as a middleman and potential peacemaker between Moscow and Kiev. Erdogan has spoken regularly with Putin since Russia's military operation in Ukraine began, and Türkiye is the sole member of NATO that has not imposed economic sanctions on Moscow.
"We are not at a point where we would impose sanctions on Russia like the West have done. We are not bound by the West's sanctions," Erdogan told CNN. "We are a strong state and we have a positive relationship with Russia."
Seeking a third consecutive term as president, Erdogan won the largest share of the vote in last week's election in Türkiye, beating rival Kemal Kilicdaroglu by almost five points but failing to break the 50% threshold necessary to earn victory outright. With third-place contender Sinan Ogan eliminated, Erdogan and Kilicdaroglu will face off in a second round of voting on May 28.
In the runup to the crucial vote, Erdogan accused Kilicdaroglu of trying to "detach" Türkiye from Russia. While Kilicdaroglu has not threatened to sever relations with Moscow, he recently accused Russia of meddling in the election, a claim that earned him a rebuke from the Kremlin.
Kilicdaroglu has also vowed to mend Ankara's ties with its NATO allies – including by lifting Erdogan's veto on Sweden's accession to the US-led bloc – and to immediately restart membership talks with the EU.
Türkiye's pursuit of an independent foreign policy depends on its strong ties to Moscow, Erdogan argued. "Russia and Türkiye need each other in every field possible," he stated, explaining that his recent moves toward dialogue with Syrian President Bashar Assad – whose opposition he backed in the Syrian Civil War – would not have been possible without Russian mediation.
"[Through] my friendship with President Putin, we thought we could open a door, specifically in our fight against terrorism in the northern part of Syria," he said. "If we can do that, I said I see no obstacle that would remain in the way of our reconciliation."
You can share this story on social media: