Türkiye and Syria planning roadmap to rebuild ties – Russia
Talks between the two sides in Moscow this week were "substantive and frank," Russian Foreign Ministry says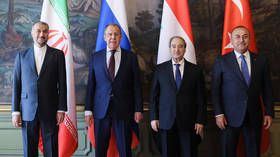 Turkey, Syria, Iran and Russia have agreed to develop a roadmap for rebuilding ties between Ankara and Damascus, which deteriorated during the Syrian conflict, the Russian Foreign Ministry has said.
The announcement was made after talks between the top diplomats from the four countries – Türkiye's Mevlut Cavusoglu, Syria's Faisal Mekdad, Iran's Hossein Amir-Abdollahian and Russia's Sergey Lavrov – which concluded in Moscow on Wednesday.
During the negotiations, the foreign ministers "discussed the issues of restoring Syrian-Turkish interstate relations in various aspects in a substantive and frank manner," the ministry said in a statement.
"The participants also agreed to instruct their deputy foreign ministers to prepare a roadmap for advancing relations between Turkey and Syria in coordination with the defense ministries and special services of the four countries," it added.
All sides stressed their commitment to preserving the sovereignty and territorial integrity of Syria and agreed to continue contacts in bilateral and quadruple formats, according to Moscow.
Turkish FM Cavusoglu wrote on Facebook that issues such as cooperation in fighting terrorism, joint work to create conditions for the return of Syrian refugees, advancement of the political process in Syria, and protection of the country's territorial integrity were discussed in the Russian capital.
The Syrian Foreign Ministry confirmed the accounts by Moscow and Ankara in its statement. Damascus added that the sides also stressed the need to increase international assistance to Syria for the reconstruction of the country after a battle against international terrorism that lasted over a decade.
In December, Moscow hosted the first talks in 11 years between the defense ministers of Türkiye and Syria. According to a report from Syrian newspaper Al-Watan, during that meeting Ankara agreed to withdraw its troops from northern Syria.
However, Turkish forces still remain in Idlib Province – the last area remaining under control of militants in the country, with Cavusoglu saying last month they're needed there "to prevent threats against [Türkiye], but also to block efforts to break up Syria."
Relations between Ankara and Damascus deteriorated after the outbreak of the conflict in Syria in 2011, and saw Türkiye join Western calls for President Bashar Assad to be removed from power, supported by the Syrian National Army and some other anti-government groups.
However, over the past few years the Syrian authorities, helped by their Russian and Iranian allies, were able to restore control over most of the country's territory, defeating, among others, Islamic State (IS, formerly ISIS/ISIL) and other terrorist groups. Ankara's stance towards Damascus has also shifted recently as it started looking for ways to rebuild ties with its neighbor. Turkish President Recep Tayyip Erdogan said in January that he was ready to meet with Assad after their respective diplomats do the preparatory work, in order "to establish peace and stability in the region."
Last week, Syria was reinstated as a member of the Arab League after being suspended for more than ten years. It has also agreed to resume diplomatic relations with another major regional player, Saudi Arabia.
You can share this story on social media: