Arab League reinstates Syria
The country had been suspended from the body for over a decade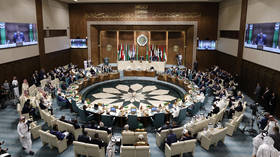 The Arab League agreed on Sunday to reinstate Syria's membership of the organization. The move comes ahead of a summit of the League scheduled to take place in Riyadh on May 19.
The decision was adopted at a closed-door meeting of the group's top diplomats in Cairo, with representatives of 13 out of the 22 member states in attendance. All of them endorsed the move.
Syria was suspended from the Arab League in 2011 in the wake of the civil unrest in the country, part of the broader Arab Spring turmoil in the region, which ultimately sparked civil war. Most Arab nations severed diplomatic ties with Damascus at the time, with some of them openly backing various opponents of Syrian President Bashar Assad.
During the years of war, various insurgents emerged in the country, ranging from the so-called "moderate opposition" militants, backed by different foreign actors, to internationally recognized terrorists, including the Islamic State (IS, formerly ISIS). However, Damascus managed to crush most of them, regaining control over the most densely populated regions of the country with the help of the country's key allies, Russia and Iran.
Turkish-backed militants currently hold parts of northern Syria, while US-backed Kurdish militias are in control of the country's northeast, and most of its oil wells remain under direct US military control.
Earlier this week, the foreign ministers of Syria, Saudi Arabia, Jordan, Egypt, and Iraq held a meeting in Amman at which they adopted a joint statement calling for "ending the presence of terrorist organizations" as well as "armed groups" on the territory of Syria. They also called for an end to "foreign interference in Syrian domestic affairs" and pledged to "support Syria and its institutions to establish control over all of its territory and impose the rule of law."
In recent weeks, there have been indicators that the years-long conflicts in the region, including in Syria and Yemen, may be nearing their ends thanks to ongoing diplomatic efforts.
Last month, Syrian Foreign Minister Faisal Mekdad made a breakthrough visit to Saudi Arabia, which used to be a leading supporter of the anti-government militants fighting Damascus. After the visit, Riyadh publicly endorsed Syrian unity and integrity and backed a political solution to the 12-year-long war.
The development was preceded by a China-mediated agreement between Saudi Arabia and Iran to normalize relations, a milestone that apparently contributed to the Syrian rapprochement, as well as facilitating peace talks to end the eight-year-long conflict in Yemen, which has been largely fueled by the rivalry between Tehran and Riyadh.
You can share this story on social media: