US involved in assassination of Russian public figures – Moscow
The number of domestic terrorist incidents increased greatly since the outbreak of the conflict in Ukraine, Nikolay Patrushev says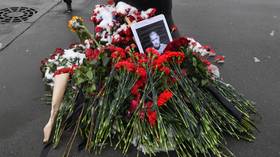 The most high-profile Ukrainian "terrorist acts" in Russia were carried out with the assistance of Washington, the Secretary of the Russian Security Council, Nikolay Patrushev, has claimed.
Speaking at a government meeting on Friday, Patrushev said that Russia has information that "the murders of Darya Dugina and Vladlen Tatarsky, the bombing of Zakhar Prilepin's car, the explosion at the Crimean Bridge," the Nord Stream pipelines sabotage, and other "terrorists acts" were "planned and carried out under the coordination of US special services".
Those attacks were "accompanied by an information campaign prepared in advance in Washington and London, designed to destabilize the social and political situation, [and to] undermine the constitutional foundations and sovereignty of Russia," the security chief stressed.
"The intensity of terrorist attacks has vastly increased" since Russia launched its military operation in Ukraine over a year ago, he added.
According to Patrushev, Ukrainian saboteur groups, who are trained by NATO instructors, have been actively trying to target important infrastructure inside Russia, including with drones.
In view of those events additional measures should be implemented to protect key facilities and places where people gather in large numbers, he said.
Earlier this week, the chief of Ukrainian military intelligence (GUR) General Kirill Budanov was asked about attacks on prominent Russian public figures and replied that his agency has "already gotten many" of them. However, he declined to mention any names. In an earlier interview, Budanov vowed to "keep killing Russians anywhere on the face of this world until the complete victory of Ukraine."
Journalist and activist Darya Dugina, the daughter of Russian philosopher Aleksandr Dugin, died after her car exploded on a highway outside Moscow last summer. Russia's Security Service (FSB) said the murder of the 29-year-old was carried out by Ukrainian nationals, who managed to flee the country.
In late April, Russian military blogger Vladlen Tatarsky was killed in St Petersburg after a statue that had been handed to him during an event with his followers exploded. A dozen people were also wounded. The FSB has blamed the blast on "Ukrainian special services and their agents, including fugitive members of the Russian opposition."
Earlier this month, prominent Russian author and political activist Zakhar Prilepin was severely injured in a car bomb near the city of Nizhny Novgorod. His driver was killed. A suspect has admitted to Russian law enforcement that he'd been hired by an unspecified Ukrainian intelligence service.
You can share this story on social media: