EU proposes more military funds for Ukraine – Reuters
The bloc's top diplomat reportedly asked for an extra $3.8bn ahead of Kiev's much-touted counteroffensive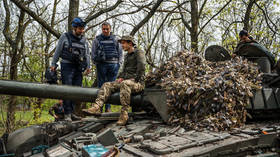 European Union security and foreign policy chief Josep Borrell has reportedly requested another €3.5 billion ($3.8 billion) to bolster the collective fund used to supply weapons to Ukraine. The European official previously warned that Kiev's forces would collapse "in a matter of days" without continued Western support.
Borrell asked EU member states to authorize new funding for the European Peace Facility (EPF) on Wednesday, diplomatic sources told Reuters, with one official stating: "We have to top up" as the facility is running low on money.
The large cash injection allegedly sought by Borrell will require unanimous approval from EU governments, which already agreed last year that more money could be authorized "in case of need." The reported request comes as Kiev is expected to launch a major offensive to reclaim territory lost to Moscow.
Borrell has been among Ukraine's most vocal backers within the EU, repeatedly lobbying for additional military support and insisting that Western aid would determine the country's fate. At an event in Italy earlier this month, he argued that it was "not the moment for diplomatic conversations about peace."
"If we don't support Ukraine, Ukraine will fall in a matter of days. So, yes, I would prefer to spend this money," he said, adding that "we don't have a choice."
Though the EPF was created in 2021 to help furnish military gear to developing nations, the fund was repurposed to focus on Ukraine soon after Russia launched its military operation in the neighboring state more than a year ago. EU officials have already set aside nearly €8 billion ($8.6 billion) for the project.
The EPF is separate from the union's budget – as the 27-member bloc is ostensibly barred from directly funding military operations – and was initially allocated €5 billion ($5.4 billion) intended to last until 2027. Those funds were quickly exhausted following many arms shipments to Kiev over the course of last year, forcing the EU to approve another massive spending hike in December.
On Wednesday, Hungarian Foreign Minister Peter Szijjarto said Budapest would not greenlight further EU aid to Ukraine unless Kiev drops its "increasingly hostile" attitude towards the country. The grievances listed by Szijjarto include the treatment of the Hungarian minority in Ukraine and a report that President Vladimir Zelensky had floated the idea of blowing up the pipeline that delivers Russian oil to Hungary.
Russia has warned that continued Western military support to Ukraine will only prolong the fighting and do nothing to deter its objectives, saying that the weapons, intelligence and training provided to Kiev's forces had already made them de facto parties to the conflict.
You can share this story on social media: