Secret Service let down top Biden official
An intruder slipped past the agents to enter Jake Sullivan's home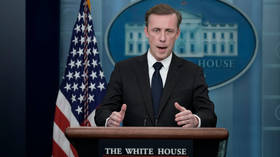 National Security Adviser Jake Sullivan said on Wednesday that he had full confidence in the US Secret Service, after multiple outlets reported that the agency head was furious three agents had allowed an intruder to enter his Washington, DC house last month.
The incident happened in late April, but only came to light on Tuesday in the Washington Post. Citing three anonymous government officials, the outlet said a man somehow walked into Sullivan's West End home at around 3am, past a security detail posted outside.
Sullivan himself confronted the intruder, who "appeared to be intoxicated and confused," then informed the Secret Service agents of the breach.
There were no signs of forced entry, or evidence that the man knew Sullivan or sought to harm him. The intruder was not detained. Police are currently combing through surveillance footage trying to identify him, CBS News reported on Wednesday morning.
Sullivan, who is en route to Japan for the G7 summit, was asked about the story. He told reporters aboard Air Force One that he had "total faith in the Secret Service," and would say no more.
According to NBC News, however, agency director Kimberly Cheatle is "livid" over the security lapse and considers it a "human failure." The three agents who were on duty that night have been suspended, pending an internal investigation.
"While the protectee was unharmed, we are taking this matter seriously and have opened a comprehensive mission assurance investigation to review all facets of what occurred," Secret Service spokesman Anthony Guglielmi said in a statement on Tuesday evening. "Any deviation from our protective protocols is unacceptable and if discovered, personnel will be held accountable."
Sullivan is a top Democrat foreign policy operative, advising both Hillary Clinton and Barack Obama during the 2008 campaign, then serving as Clinton's chief of staff at the State Department, top foreign policy aide to then-vice president Joe Biden, and Clinton's foreign policy advisor during the 2016 presidential election. Biden appointed him to lead the National Security Council in January 2021.
You can share this story on social media: