'Economic NATO' needed to counter China – Truss
The former British PM's trip to Taiwan has elicited a furious response from Beijing, which called her a "failed politician"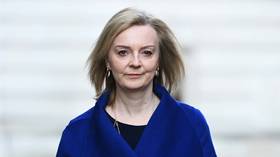 Former UK Prime Minister Liz Truss has called for an "economic NATO" to counter China amid rising tensions over Taiwan. Truss, who resigned from her post after 45 days having nearly crashed the British economy, urged the West to "reduce dependence on China in all spheres," in comments to a think tank in Taipei City on Wednesday.
"We cannot pretend we have meaningful deterrence without hard power," Truss said in a keynote speech to the Prospect Foundation, an advisory panel to the Taiwanese government. "If we're serious about preventing conflict in the South China Sea we need to get real about defense cooperation," she added.
Truss argued that any conflict between Beijing and Taipei would present "economic pain" and would be felt by "our people across the free world." She claimed that this would require an "economic NATO" involving Western nations to coordinate financial pushback against China and counter what she referred to as Beijing's "bullying on a major scale."
The high-ranking Conservative Party member, who is the most senior British politician to have visited Taiwan since Margaret Thatcher in the 1990s, also cautioned Western leaders against collaborating with China on issues such as climate change. Truss asserted that totalitarian regimes "don't tell the truth," citing what she said was Beijing's secretive stance during the onset of the Covid-19 pandemic.
China branded Truss a "failed politician" in a scathing response to her five-day trip to Taiwan, which it described as "provocative."
"British politician Liz Truss' recent visit to Taiwan is a dangerous political show which will do nothing but harm to the UK," a spokesperson for Beijing's embassy in the UK said on Tuesday. "Any violation of the One China principle will have serious consequences for China-UK relations."
China has frequently objected to meetings between Western political figures and officials from Taiwan. Last year, Beijing held an air and naval blockade of the island and cut off communication with Washington following a visit to Taiwan by then-US House Speaker Nancy Pelosi. Beijing was also angered when Taiwanese leader Tsai Ing-wen met with current US House Speaker Kevin McCarthy in California earlier this year.
Beijing says Taiwan is a province of China which will one day be fully reunified, by force if necessary. The UK formally recognizes Beijing's One China principle, which states that there is only one true Chinese government, but London maintains unofficial diplomatic ties with Taipei.
You can share this story on social media: