US tax inspectors pulled from Hunter Biden probe – lawyers
A whistleblower at the IRS claims the Justice Department has improperly handled the investigation into the president's son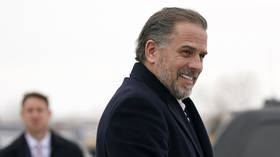 An IRS agent who alleges that the US government interfered in a tax evasion probe into Hunter Biden, the son of the US president, has claimed his entire team was abruptly removed from the case, a decision his lawyer called "retaliatory."
Attorneys for the unnamed whistleblower released a letter to media outlets decrying the agent's alleged removal from the Hunter Biden investigation, suggesting the move could even "constitute obstruction of a congressional inquiry" given some GOP lawmakers' interest in the case.
"Today the Internal Revenue Service (IRS) Criminal Supervisory Special Agent we represent was informed that he and his entire investigative team are being removed from the ongoing and sensitive investigation of the high-profile, controversial subject about which our client sought to make whistleblower disclosures to Congress," lawyers Mark Lytle and Tristan Leavitt said on Monday.
They went on to claim that the whistleblower was "informed the change was at the request of the Department of Justice," arguing "this move is clearly retaliatory" against the agent, who previously requested legal protections in order to discuss alleged misconduct by DOJ officials in relation to the Hunter Biden investigation.
Last month, Lytle said the agent had evidence suggesting a "failure to mitigate clear conflicts of interest" and "preferential treatment" in the probe, adding that he seeks to disclose that information "in a nonpartisan manner to the leadership of the relevant committees on both sides of the political aisle." The lawyer noted that his client could contradict sworn testimony to Congress about the inquiry provided "by a senior political appointee," though did not name the Biden administration staffer.
The whistleblower has yet to appear before lawmakers, but has reportedly met with inspectors general from the Treasury and Justice Department to discuss the allegations.
The federal probe into the younger Biden was launched in 2018, beginning as a broader inquiry into his overseas business dealings but later zeroing in on some of the income earned in his foreign ventures, as well as a false statement he is alleged to have made when purchasing a firearm.
In April, senior law enforcement sources reached by NBC News described "growing frustration" within the FBI over the lack of charges for Hunter Biden, as both the bureau and the IRS finished their work on the case nearly one year ago. Though the Washington Post previously reported that investigators believed they had sufficient evidence to bring charges, US Attorney David Weiss – a Donald Trump appointee – has yet to make a final decision on the matter.
You can share this story on social media: