US Republicans demand FBI record on alleged Biden quid pro quo
The FBI form supposedly includes "very serious and detailed allegations" implicating the US president in a crime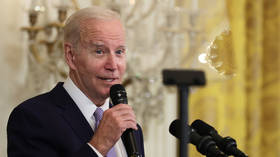 The FBI has non-classified records from US President Joe Biden's stint as vice president detailing an alleged quid pro quo between the Democrat and a foreign national, two Republican congressmen claimed on Wednesday.
Citing information given by a whistleblower to Senate Budget Committee ranking member Chuck Grassley of Iowa, the pair have demanded the agency turn over the file.
"We believe the FBI possesses an unclassified internal document that includes very serious and detailed allegations implicating the current President of the United States," Grassley said in a press release on Wednesday, questioning "what, if anything, the FBI has done to verify these claims or investigate further."
The whistleblower's information "raises concerns that then-Vice President Biden allegedly engaged in a bribery scheme with a foreign national," House Committee on Oversight and Accountability chair James Comer said in the release.
The American people need to know if President Biden sold out the United States of America to make money for himself.
Comer has subpoenaed the FBI internal document, known as a FD-1023 form, which supposedly describes the arrangement between then-VP Biden and the foreigner to exchange money for policy decisions. The subpoena requires the agency to produce any FD-1023s that contain the word 'Biden', as well as any attachments.
Accusing the FBI of stonewalling his committee's inquiries into the Biden family's foreign business dealings, Comer informed the agency's director, Christopher Wray, that he hopes to close loopholes in the transparency law so that future presidents and vice presidents (and their immediate family members) are unable to conceal foreign financial ties that could pose national security risks.
In March, Comer's committee found that not only the president and his son Hunter Biden, but also his daughter-in-law Hallie Biden, had received large payouts from Chinese energy company CEFC, confirming the questionable relationship first revealed in emails found on Hunter Biden's 'laptop from hell' in 2020.
The committee has sifted through thousands of pages of the family's financial records in its quest to determine whether and to what degree the family is compromised by its foreign business dealings.
Meanwhile, the Justice Department is poised to issue its decision on whether to prosecute Hunter Biden on tax violations and firearms offenses, according to the Washington Post.
You can share this story on social media: