Some nations see 'double standards' on Russia – Scholz
Germany's chancellor has acknowledged the viewpoint that Western powers don't apply their principles equally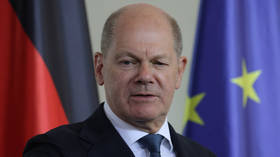 India, Vietnam and other countries that have balked at condemning Russia over its conflict with Ukraine largely agree with the principles behind the Western-based "international order," but they aren't convinced that those tenets are being applied fairly to Moscow, German Chancellor Olaf Scholz has admitted.
"When I talk to leaders from those countries, many assure me that they are not questioning the underlying principles of our international order. What they are struggling with is the unequal application of those principles," Scholz said on Monday at the Global Solutions Summit in Berlin.
United Nations members voted overwhelmingly last October to demand that Russian forces immediately withdraw from Ukraine, but dozens of countries either opposed the resolution or abstained. In addition to India and Vietnam, such nations as China, South Africa, Algeria and Pakistan voted to abstain. Those countries have largely resisted US pressure to join in a Western-led sanctions campaign against Russia.
"What they expect is representation on equal terms and an end to Western double standards," Scholz conceded. He added that cooperation from those influential nations will be "limited at best" if their leaders perceive that "we only approach them because we are interested in their raw materials or because we want their support on a UN resolution."
Scholz claimed that perceptions of Western geopolitical hypocrisy aren't always justified. "But we must address them if we want to encourage powers in Asia, Africa and the Americas to join us in building and defending a stable global order." He suggested that offering developing nations a bigger voice in international affairs would help earn their cooperation. For instance, he has supported giving African nations permanent representation on the UN Security Council and making the African Union a permanent G20 member.
Russian officials have often accused the US and its Western allies of demanding that their rules be followed without doing so themselves. For instance, Washington only advocates the principles of self-determination and respect for territorial integrity when they fit its interests, Russian diplomats have argued.
Russian Foreign Minister Sergey Lavrov pointed out in March that Washington had ignored Moscow's security concerns in neighboring Ukraine after justifying America's faraway military interventions in such countries as Syria, Libya, and Serbia by claiming that its national interests were threatened. "In a word, if this is not what you call a double standard, then I am not foreign minister," Lavrov said.
You can share this story on social media: