China hits back at US over Russia
The US is fueling the Ukraine crisis with weapons, while targeting Beijing over its ties with Moscow, the foreign ministry has stated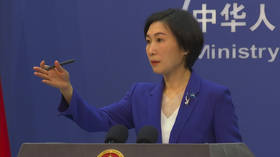 The US is sending weapons worth billions of dollars to Kiev while warning Beijing against assisting Moscow, a Chinese foreign ministry spokeswoman has insisted, adding that Washington is in no position to dictate Chinese-Russian relations.
"The US has no right to dictate the China-Russia relations, and we will never accept coercion and pressure from the US," Mao Ning told journalists during a daily briefing on Monday.
She was commenting on allegations by senior US officials that Beijing has likely authorized the delivery of non-lethal aid to Russia despite warnings from Washington, and is considering the supply of artillery shells in the future.
White House National Security Advisor Jake Sullivan warned on Sunday that providing military assistance to Moscow "will come at real costs to China." The US has already imposed Ukraine-related sanctions on two Chinese satellite companies.
Mao said Washington was peddling "false information about weapons" and sanctioning Chinese firms "for no reason," describing this as "hypocritical" and "a blatant act of bullying."
The US has poured billions of dollars of military aid into Ukraine, while Beijing has maintained a balanced position, promoting peace talks and a political solution, the diplomat claimed. "It is clear at a glance who is adding fuel to the fire," she said.
The spokesman added that the sale of US weapons to Taiwan, a self-administered Chinese island, was undermining the relationship between the two nations, just like arming Kiev had fanned the flames of the Ukraine crisis.
The US has pledged to support Kiev for "as long as it takes" to defeat Russia. Beijing criticized Russia for sending troops into Ukraine, but blamed the US and NATO's expansion in Europe for triggering the crisis. It has blasted Washington's use of unilateral sanctions as a foreign policy tool.
You can share this story on social media: